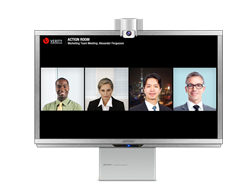 Arrive Systems FacePoint is the next generation video collaboration platform.
Denver, CO (PRWEB) March 25, 2014
TelepresenceGear.com - a recognized leader in providing a full range of visual collaboration solutions and Microsoft Lync ready video conference systems – announces its partnership with Arrive Systems.
"We at TeleprescenceGear.com are always on the hunt for the most robust, practical, cost-effective visual collaboration technologies for our clients," said Ryan Pinke, Founder and CTO at TelepresenceGear.com. "We are very excited about the Arrive FacePoint Extreme Collaboration solution. Arrive Systems has built the next generation video conference system. It allows connectivity to just about any type of video conference platform from premise to cloud-based platforms such as Microsoft Lync, Cisco Jabber, Polycom, Skype, Google Hangouts, Cisco WebEx, Citrix GotoMeeting, Zoom.us, Fuze Telepresence, Vidyo and BlueJeans."
Edgeless Media
Arrive's transformational technology architecture called "Edgeless Media®"(EM), is based on the reality that in today's "cloud connected world", devices no longer perform functions that are constrained within a box, nor within its physically defined schematic geometry. Arrive's next generation devices operate as gateways to the whole wide world by performing functions that are "inside and outside the box".
Arrive Systems "meets the criteria for what TelepresenceGear.com believes collaboration platforms should bring: flexibility and adaptability at a reasonable cost point. It works the way the user wants it to, not in the silo other VC manufacturers force you in."
Rigorously Tested
Mr. Pinke described the rigorous testing process new products go through at TeleprescenceGear.com: "We always put new products through rigorous testing to make sure that they fit our clients' needs. The products we represent reflect on our integrity. We are sold on the flexibility and adaptability of Arrive Systems' products and solutions. We want our clients to understand that we are actually doing the testing and bundling. Our testing occurs both in-house, and through trials with our customers. As new products are introduced, we reevaluate our existing product lines to make sure each product is promoted in its 'best fit' scenario. This is another reason we are proud to present the Arrive Systems FacePoint Extreme Collaboration solution: we have rigorously demonstrated that it can be used to solve many different teleconferencing requirements. Please check us out online at http://www.teleprescencegear.com."
Launched in 2010, TelepresenceGear.com has visual collaboration clients worldwide. They deliver and support next generation video conferencing solutions, such as the Lync video conference system, the enable simplicity and ease of user for end users at a fraction of the cost.
The names of actual companies and products mentioned herein may be the trademarks of their respective owners.