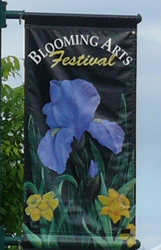 Linden, Tennessee (PRWEB) March 16, 2014
Indulge in some springtime fun at the 6th Annual Blooming Arts Festival. Back and better than ever, this highly anticipated event will feature a diverse but compelling mix of fine arts, local craftsmanship, engaging performances, and fantastic eats. With thousands of guests at last year's event, the arts festival is emerging as a perfect way to kick off the new season and celebrate the richness and vitality of Perry County.
Sponsored by the small, inviting town of Linden, Tennessee, the festival will be taking place over a two-day period: Friday, March 21, 2014, from 12:00pm till 9:00pm and Saturday, March 22, from 9:00am till 9:00pm. Attendance is free, and all members of the public are cordially invited to attend this increasingly-popular celebration of the area's unique historic and cultural heritage.
Like last year, the event is expected to host over 100 regional and local artisans and vendors. These locals are known for their engaging fine arts as well as their standout craftsmanship, which ranges from quality woodwork to carefully crafted glass products and other fine crafts. Fine art performances and crafts exhibitions will take place in several interactive venues, such as blacksmithing demonstrations, live street theater performances, and painting exhibits. For food lovers, local eateries and street vendors will offer ample opportunities for indulgence in all types of savory cuisine.
On Saturday, the festival will feature live music performances from locally-based and -bred performers across a spectrum of music genres, including acoustic, bluegrass, Southern gospel, country, and more. Among this year's promising line-up will be country artist Richard Lynch; The Joylanders, who offer a blend of Southern gospel, bluegrass, acapella, and acoustic music; and the Professor and the Bull, whose nostalgic, fresh sound dazzled last year's festival crowd. Native songwriter and recording star Whitney Duncan will be returning to her local roots in the area and headlining this year's performances. Born in Scots Hill, Duncan is best known for television appearances on Nashville Star and Survivor: South Pacific. Other live performances will also be on Saturday, with appearances from the Cliftones of Clifton, the Showtime from Decatur County, and Perry County legend MacDonald Craig.
The festival will also feature multiple events and venues for other family-friendly entertainment, including activities for the kids, a quilt show to showcase the area's artistic talent, and exhibitions of "homemade and handmade" goods that reflect local and regional culture. In short, it is sure to offer something for every guest.
While at the festival, patrons are invited to visit the acclaimed historic Commodore Hotel and Cafe. A recent feature on the PBS travel show "Southern Accents," the Commodore Hotel has been named one of the best places to stay in Tennessee, alongside luxury hotels such as the Peabody Hotel in Memphis and Blackberry Farm in East Tennessee.
In line with twenty-first century communication standards, the Town of Linden will be offering free Wi-Fi for staying connected as patrons enjoy the entertainment and attractions. Additionally, the Town of Linden will be giving away a free iPad to one lucky patron. To qualify for this giveaway, guests are required to register in person at the festival and "like" the 6th Annual Blooming Art Festival's Facebook page. The event's page is available at the following address: http://www.facebook.com/Bloomingartsfestival.
For information about this year's exciting event, please visit our website, http://www.bloomingartsfestival.org, or call (931) 589-6888.