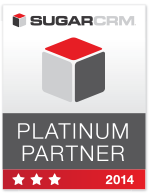 "We're quite proud of receiving the Three Star Platinum Award. Our team at BrainSell has a laser focus on helping clients find the right fit software and SugarCRM has obviously been the right fit for many of our clients," said Jim Ward, CEO and President
Topsfield, MA (PRWEB) March 19, 2014
BrainSell, a leader in the CRM, ERP and marketing automation industry, has been awarded prestigious Three-Star platinum partner status by SugarCRM, the most cutting edge customer relationship management software on the market.
'SugarCRM is proud of the significant contribution and ongoing commitment demonstrated by BrainSell Technologies," said Craig Lewis, Senior Vice President, Global Services and Channel Development at SugarCRM. "We are honored to team with such an innovative company and pleased to award the Three-Star Platinum achievement to our top performing channel partners who are making tremendous strides and delivering stellar customer results as they drive their business with Sugar."
The Three-Star status is given to companies that achieved top 10% Revenue Production in 2013 as well demonstrating a strong commitment to Sugar by being active participants in their growing Partner Program while delivering significant customer success.
"We're quite proud of receiving the Three Star Platinum Award. Our team at BrainSell has a laser focus on helping clients find the right fit software and SugarCRM has obviously been the right fit for many of our clients," said Jim Ward, CEO and President of BrainSell. "In fact we've seen SugarCRM sales grow 50%- 100% year over year. We're all thrilled to be recognized and partnered with SugarCRM."
BrainSell has been an award-winning partner with Sugar for several years and has been recognized for their strong commitment as a Sugar MVP in both 2010 and 2011 as well as earning a 2X+ Sales award in 2010. BrainSell offers full customization of SugarCRM to serve the individual needs of each customer through integration and support from trained technicians.
About BrainSell
BrainSell is a business solutions company that is dedicated to helping businesses grow, create a delighted customer base and achieve grand success. BrainSell provides comprehensive ERP, CRM, and marketing automation solutions and services, including training, implementation and software development. Founded in 1994 and headquartered in Topsfield, Massachusetts, BrainSell continues to grow in product knowledge and offerings. Visit http://www.brainsell.net to start improving sales and productivity today. Visit http://www.brainsell.net for more information or email info(at)brainsell(dot)net.
Follow BrainSell on Facebook and on Twitter at http://www.twitter.com/brainsell.