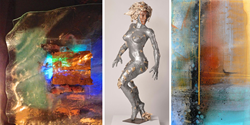 Sonoma, CA (PRWEB) March 17, 2014
A New Leaf Gallery | Sculpturesite at Cornerstone Sonoma is pleased to announce the exhibition SURFACES, on view from April 6 to June 29, 2014. An opening reception will be held in the gallery on Sunday, April 6th from 2-4pm.
It may seem odd to present a sculpture exhibition that places focus on the surface of the works, which is often considered the mere superficial embellishment of the sculptural form. Yet when a sculptor considers the surface treatment as an intrinsic part of the complete work, or regards the three dimensional form as a canvas to activate fields of colors and light, the surface of the artwork offers a key to a new experience, a place where the second and the third dimension meet to delight the viewer further.
In this exhibition, we bring together two glass artists, Kari Minnick and Pam Morris, with radically different approaches to how the works' surfaces integrate form, light, and color. Michael Hannon uses three highly contrasting materials in his life-sized figures: slick and highly reflective duct tape, newspaper fragments, and hammer-textured copper.
Pam Morris
Pam Morris is a Bay Area glass artist who is best known as an innovator of sculptural luminaire design. In 1974 she discovered the immediate and visceral power of light penetrating glass while viewing the sunlit stained glass at Saint Patrick's Cathedral in New York City. As a consequence of being moved so deeply, she resolved to devote herself to exploring the powerful visual and emotional effect created by glass and light. For over 30 years, Morris has been recognized as a pioneering creative design force, using blown, kiln-formed, and cast glass with forged and cast metal to capture light. Her highly evocative pieces have been commissioned for public, corporate, and private high-end projects around the world.
Morris has recently become interested in incorporating moving images into her large kiln-formed glass works, and two such works are included in this exhibition. Using the interplay of video projections and light emitting diodes orchestrated through micro-processors, these images are not used to depict or tell a story, but as fleeting, stirring triggers to engender deep emotional reactions from viewers at the cellular level. "Most of our media (TV, movies, computers, and smart phones) make mental and emotional demands of us from lit screens," Morris observes. "But what if the same illuminated technology that overstimulates us could instead relax us in an intriguing way?"
Kari Minnick
When one first encounters Kari Minnick's bold glass sculptures, one may think they are the works of a painter. And certainly she is an accomplished painter, but one who would not be satisfied with a canvas. Minnick's deft use of color in broad painterly patterns comes to life in her kiln-formed works because she is so fluent with the properties of glass. She uses audacious compositions, delicate layers, and contrasting textures; enigmatic handwriting and crisp lines suddenly bringing order to a chaotic field. But ultimately, the success of Minnick's work rests on her intimate understanding of the luminous quality of glass.
"In my work, the surface and texture… is not merely a finish but is an integral part of a piece," says Minnick. "It can be raw and gritty or smooth as still water; opaque or transparent; tactile or implied. Working in layers of glass means that the surface is a window into the layers below it... The surface allows light to travel through a piece or holds it at bay with foggy diffusion."
Minnick holds a degree in studio art from the University of California at Davis, and has been an exhibiting artist and educator of internationally recognized courses in kiln-formed glass for over twenty-five years. Collected internationally, her works are in private, corporate, and embassy collections.
Michael Hannon
Michael Hannon's early introduction to art was through ceramics, but when he discovered metal – first as a jewelry instructor at Fort Ord where he was drafted, then at Long Beach State University where he majored in jewelry and metal smithing, and finally training and working as a welder in the LA Harbor – Hannon immediately felt comfortable. During his 25 years of employment at Calty's, the Toyota Design Center in Newport Beach, CA, he participated in an incredibly creative experience led by a visionary Japanese executive who encouraged the designers to conduct their own art projects.
"The human figure, the form, and the energy – my figures are always in motion, the birds are always in motion – I just like the energy. So that's where I'm going, plus experimenting with techniques and new materials," said Hannon in a recent interview with Outside the Lines, just before the opening of his show at the San Luis Obispo Museum of Art.
In SURFACES, three life-size figures in duct tape and newspaper with hammered copper faces are frozen in expressive reactionary stances, leading the viewer to contemplate the events that the sculptures may be physically reacting to in this extreme manner. The textural intensity of the contrast between the slick yet ragged tape, the wild bursts of newsprint, and the mask-like copper faces further heightens the tension. Two hollow copper torsos with rich heat-rendered patinas, and two birds caught in mid-flight are also included.