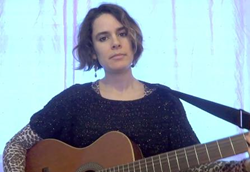 (PRWEB) March 15, 2014
Maria starts off this acoustic guitar lesson by explaining what chords are used in the song. For the Verse she says the chords are Em, D, and C and she demonstrates the strumming as all down strokes played as 1/8th notes, Em (1-&-2-&-3-&-4-&), D (1-&-2-&), and C (3-&-4-&). Lua demonstrates the Chorus as; G, D, C, and Em and the strumming as; G down-down-up-up-down-up (1-2-&-3-4-&), D down-down-up-up-down-up (1-2-&-3-4-&), C down-down-up-down (1-2-&-3), and Em down-up (4-&). And finally Maria demonstrates the Bridge as A and an open G by playing the 4th, 3rd, and 2nd strings open strummed as A down-down-up (1-2-&) and G up-down-up (3-4-&) and this sequence is repeated twice at the end of the chorus to tie it back into the verse. Maria continues this guitar lesson by performing the whole song so you can see and hear exactly how to play it. Guitar TAB's for this acoustic guitar lesson are available at SongTabs.com.
Maria Lua
Is a folk inspired singer, songwriter, musician and performer, using melody and lyrics to uplift and motivate her audience. At the end of 2012 Maria and her band descended on professional recording studio Shrunken Heads Studios to record 4 songs for her upcoming E.P. "Free Spirit".
Neil Young is a Canadian born singer and songwriter. He is best known for being the "fourth member" of Crosby, Stills, and Nash and the founder of Buffalo Springfield. Young has played on 39 albums and has been awarded two Grammy Awards, three Juno Awards, and was inducted into the Rock and Roll Hall of Fame twice as a solo artist and for Buffalo Springfield.
About SongTabs.com
SongTabs.com is a great online resource for learning to easily play your favorite songs on the guitar. With several great instructors and a constant growing catalog of songs, everyone can learn to play there favorite songs.