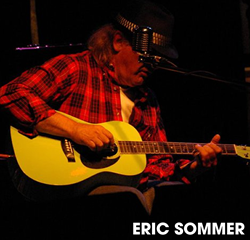 He's been here before, right? What a great show... I can't stop playing that CD! - Billy Rymen, Keyport, NJ
Annapolis, MD (PRWEB) April 17, 2014
Eric Sommer is one lucky guy.
In one afternoon this National Touring Artist is rear-ended on Rt. 40 north of Nashville, impact completely totals the touring van, lands in the ER for two days with serious injuries, spend months alone in a motel room recovering — and is back working a killer schedule in under 60 days.
Crazy? Yup, it's crazy alright, but when an Artist's drive is that strong, what else can a touring performer do?
And being stuck in a small, East Tennessee Village with no taxi service, no car rental, a small diner that shares a service bay in the only gas station in town and serves frogs legs for lunch is no picnic.
Oh, and it's a two-mile hike to groceries... there's a song - or 20 - in there somewhere!
Now able to move around much better, although not completely repaired, Eric Sommer is back doing what he does best.
Mr. Sommer has turned a simple strumming style into what may very well be the next big thing: an explosive and dramatic free-form style and, in the process, he's become one of the finest free-form pickers anywhere, borrowing from Steve Howe, Doc Watson and turning out a style that is almost impossible to copy, and it is authentically unique.
The outpouring of support - both physical and financial - has been remarkable, and Mr. Sommer's unique style has been the reason for so much of that. Friends and fans alike, wanting to preserve and continue his remarkable musical journey, have made a remarkable effort to help with medical, financial and transportation issues.
The free-form guitar style utilizes an original and explosive fret approach – using every fret on the neck and re-tuning on the fly, bending the neck and slapping the strings, sound holes, guitar tops and sides.
But Eric Sommer does more – a wide variety of open tunings, a range of guitars and a collection of small, wonderfully obscure vintage guitar amps add to the presentation. And seeing Mr. Sommer work all these elements in a live show is something audiences remember for years.
Additional tour dates and ticketing info can also be found at Pollstar.
One of the noticeable standouts in any Eric Sommer show is the on-the-fly improvisational approach to many of the breaks, solo sections and dramatic lulls in an "audio-wash, wall-of-sound" presentation.
The combination of raw amp feedback cycled with acoustic guitar overtones that seem to merge in the air is a remarkable process to experience.
Mr. Sommer has been taking notes and writing down his thoughts and observations for a number of years – Red Chairs and Black Pancake are the result – two collections of stories, prose and commentary on life, looking around the corners and where to look for happiness and oil-change coupons.
Eric started his musical career in the Boston area and has been a regular player on many national tours and showcases. He worked in Europe for two years on Danish, German and British rock stages, returned to Boston and formed The Atomics, a cult power-pop band in South Boston.
His influences are as diverse as Townes Van Zandt, Steve Earle, Steve Howe and The Ramones. Mr. Sommer's current project with power trio "The Solar Flares" shake up Chet Atkins and David Bromberg influences with those of Randy Travis and Elvis Costello - a remarkable mix.
With open tunings, slide guitar, lap-slap tone guitar and a remarkably aggressive fingering style approach, watching Eric Sommer will make you jump out of your seat and holler for joy! There are very few players who have maintained this authentic American style of guitar and Eric Sommer is one of the very best.
For music samples, please visit Eric Sommer online for additional schedules or contact him at eric(at)ericsommer(dot)com or call 202-255-1995. Additionally, you can find Eric Sommer on Facebook, too. RAINY DAY KARMA is also available on iTunes and CDBaby.
Eric Sommer is represented by Clyde is Thinking, and PR programs are managed thru MTG/NY. For more information, promo/appearance requests or to set up an interview, please contact Tom Monihan 202-255-1995.