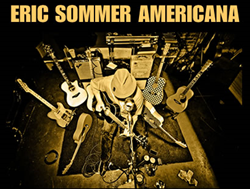 'Saw him at The Bluebird Cafe in Nashville. He just gets better and better.' - Steve BallantinePolaris Recording
San Marcos, Texas (PRWEB) April 29, 2014
Eric Sommer, Pop American Artist and guitar player extraordinaire, is coming East.
And that's good news for Eric Sommer fans along the eastern seaboard and acoustic guitar aficionados, in particular. Mr. Sommer is known for playing small capacity rooms, generally 75 - 150 seats, and a small environment seems to amplify his explosive guitar style significantly. Almost all the rooms on this tour are small capacity rooms.
Mr. Sommer will be starting his eastern swing when he leaves Norman Oklahoma on May 3rd after a performance at The Blue Bonnet. May 1st finds Eric Sommer in Memphis at Kudzu's and May 2nd in Little Rock at the venerable Midtown Billiards. Additional stops after that include:
GREENWOOD, SC - the filling station • 5/8
GREENWOOD, SC - the catawaba club • 5/9
GREENWOOD, SC - Harris Landing • 5/10
CHAPEL HILL, NC - Gathering Spot • 5/11
CHARLOTTE, NC - TBD • 5/14
CARRBORO, NC - southern rail • 5/15
SCOTTSVILLE, VA - baines • 5/16
APPOMATTOX, VA - baines • 5/17
AWENDAW, SC - awendaw green • 5/21
WILMINGTON, DE - the queen /World Cafe Live • 5/23
NEW YORK CITY - parkside lounge • 5/23
STAUNTON, VA - pompeii lounge • 5/24
BURLINGTON, VT - radio bean • 5/27
NEW PALTZ, NY - root note • 5/28
ATHENS, OH - jackie o's • 5/ 30
ATHENS, OH - ColorDance Festival • 5/30
ATHENS, OH - ColorDance Festival • 5/31
ST. LOUIS, MO - cicero's • 6/4
EDWARDSVILLE, IL - the stagger inn • 6/5
BLOOMINGTON, IN - max's place • 6/6
ST. LOUIS, MO - black bear bakery • 6/7
MEMPHIS, TN - java cabana • 6/8
NEWTOWN SQUARE, PA - burlap and bean • 6/13
LOCH HAVEN, PA - avenue 209 • 6/14
NEW HOPE, PA - john & peters • 6/16
ANN ARBOR, MI - ann arbor farmers mkt • 6/18
These type of schedules are nothing new for Mr. Sommer; they are the norm, rather than the exception. A consumate professional, Eric Sommer has earned the respect and admiration of a generation of young players and song-writers; 2014 could very well be the year Mr. Sommer receives the recognition he deserves.
More writings are also in the works - short stories, a reading tour and more of the single page compositions so popular in Red Chairs, Black Pancake and Blue Turtles, the newest collect coming this Fall as well.
With open tunings, slide guitar, lap-slap tone guitar and a remarkably aggressive fingering style approach, watching Eric Sommer will make you jump out of your seat and holler for joy! There are very few players who have maintained this authentic American style of guitar, and Eric Sommer is one of the very best.
For music samples, please visit Eric Sommer online for additional schedules or contact him at eric(at)ericsommer(dot)com or call 202-255-1995. Additionally, you can find Eric Sommer on Facebook, too. RAINY DAY KARMA is also available on iTunes and CDBaby.
Eric Sommer is represented by Clyde is Thinking, and PR programs are managed thru MTG/NY. For more information, promo/appearance requests or to set up an interview, please contact Tom Monihan 202-255-1995.