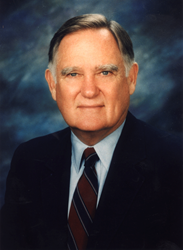 "While he may be gone in body, as a founder of Callaway Gardens with my grandparents, his spirit will live on in his love of and vision for Callaway Gardens," said Edward Callaway, son. "Both our family and the Gardens family will miss him deeply."
Pine Mountain, Ga. (PRWEB) March 15, 2014
Howard Hollis "Bo" Callaway, Sr., died Saturday, March 15, 2014, in Columbus, Ga. Callaway, age 86, was Chairman Emeritus of the Board of Trustees of the Ida Cason Callaway Foundation™ (ICCF) in Pine Mountain. He was the son of the late Cason and Virginia Callaway, co-founders of Callaway Gardens.
"While he may be gone in body, as a founder of Callaway Gardens with my grandparents, his spirit will live on in his love of and vision for Callaway Gardens," said Edward Callaway, son. "Both our family and the Gardens family will miss him deeply."
Callaway was born April 2, 1927, in LaGrange, Ga. He graduated from Episcopal High School in Alexandria, Va. From 1944 to 1945, he attended Georgia Institute of Technology in Atlanta leaving there to become a cadet at the United States Military Academy at West Point earning letters in boxing, tennis, and squash. He graduated in 1949 with a degree in Military Engineering.
During his military career, Callaway served as a lieutenant in the United States Army. He was a platoon leader in Korea, an instructor in tactics at Fort Benning, Ga., and was the recipient of the Combat Infantry Badge, three Campaign ribbons, and the Republic of Korea Presidential Unit Citation. Callaway ended his military service in 1953 to return to his home in Hamilton, Ga., and help his father develop and manage Callaway Gardens, a nationally recognized 6,500 acre garden and resort in Pine Mountain. He also served as Chairman, President and/or CEO from 1953 until 1964, 1966 until 1970 and again from September 1993 until November 2003. He has been a member of the ICCF Board since 1958.
During his years in Pine Mountain, he oversaw the completion of Robin Lake Beach, the development of the Summer Recreation Program (now known as Summer Family Adventure), the expansion of golf operations from nine to 63 holes (now 36 holes) and the building of the Callaway Gardens Inn (now known as the Mountain Creek® Inn) and the Callaway Country Cottages (now known as the Southern Pine Cottages). He was also instrumental in creating the Masters Water Ski & Wakeboard Tournament™ at Callaway Gardens, which is the world's most prestigious water ski tournament and now in its 55th year.
In 1964, Callaway was elected to the United States Congress by the 3rd Congressional District of Georgia. He took a leave of absence from the Gardens to serve in Washington, DC, as the first Republican Congressman from Georgia since Reconstruction.
From 1970 to 1973, Callaway served as President and/or Chairman and Chief Executive Officer of Interfinancial, Inc., in Atlanta.
In 1973, he was appointed Secretary of the Army. He was awarded the medal of distinguished Public Service by the U.S. Department of Defense in 1975. Callaway managed Gerald Ford's 1976 presidential election campaign.
From 1970 until 2003, he was the principal owner and CEO of Crested Butte Mountain Resort in Colorado. In 1980, he was a candidate for the Republican nomination for the United States Senate from Colorado and from 1981 until 1987 he was Chairman of the Colorado Republican Party.
In September 1993, he returned to Callaway Gardens as President and Chief Executive Officer as well as Chairman of the Board. In January 1995, he stepped down as President but continued to serve as Chairman until 2003, when his son Edward was named to that position.
Callaway was a member of several Boards of Directors during his life including Trust Company of Georgia, Georgia Power Company and its parent company The Southern Company, S.C.I. Systems Inc., United Bank of Denver, World Business Council, Chief Executive's Organization and the CML Group. He also served as the International President of the Young Presidents Organization. He also served as Chairman of the Tourism Committee of the Georgia Chamber of Commerce. From 1961 until 1964, Callaway was Vice President of the State of Georgia Chamber of Commerce. In 1966 he was the Republican nominee for Governor of Georgia. In 1980 he was the Republican candidate for the U.S. Senate representing Colorado and from 1981 until 1987 he was Chairman of the Colorado Republican party. In July 2001, Callaway was appointed to the Board of the Georgia Department of Industry, Trade and Tourism.
Callaway was a member of numerous organizations including the Board of Regents of the University System of Georgia, National 4-H Committee, Republican National Committee and Phi Kappa Phi.
In addition to his love for Callaway Gardens, Mr. Callaway had multiple interests. He was a rabid fan of baseball to the point he created a program for talented yet economically-challenged baseball players, Opportunities Through Baseball, which was later acquired by Major League Baseball, and started a summer collegiate baseball woodbat team, the Woodbats. His passion for nature and the Crested Butte area led him to re-establish the threatened Clinton Cutthroat Trout. His boat, the O Be Joyful, was a favorite pastime and one that he relished sharing with his family.
He shared all of these amazing accomplishments with his beloved wife by his side. Interestingly, both had earned their private pilot's license.
Callaway is survived by five children, Howard H. "Bo" Callaway, Jr. of Bristol, Va.; Elizabeth "Betsy" Callaway Considine of Denver, Colo.; Virginia Callaway Martin of Toronto, Ontario, Canada; Edward Cason Callaway of Hamilton, Ga.; and Ralph Walton Callaway of Columbus, Ga.; 16 grandchildren and five great-grandchildren and three on the way. He was predeceased by his wife Laura Elizabeth "Beth" Walton Callaway and brother Cason J. Callaway, Jr., of Hamilton, Ga. Callaway also had a sister, the late Mrs. Clifford (Jinks) Petersen of Beverly Hills, Ca.
In lieu of flowers, the family has requested memorial contributions be made to the Ida Cason Callaway Foundation™, c/o Callaway Gardens, P.O. Box 2000, Pine Mountain, Ga. 31822.
In celebration of Callaway's life, a memorial organ concert will be 10 a.m. to 4 p.m. on Wednesday, March 19, at the Ida Cason Callaway Memorial Chapel at Callaway Gardens, Pine Mountain, Ga. Admission will be complimentary.
Arrangements are by Striffler-Hamby Mortuary, 4071 Macon Rd., Columbus, Ga. 31907, (706) 563-2372, http://www.striffler-hamby.com.
###
Note to editor/news director: Images are available upon request.