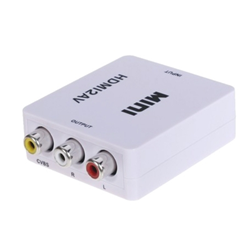 (PRWEB) March 16, 2014
Recently, Hiconn Electronics, an outstanding online shop offering various kinds of high end devices, has released its new versions of HDMI TO CVBS Converters. What's more, the company has started its big sale for these practical products. The special offer will be valid from today until April 10, 2014.
Based on a senior spokesman for the company, the purpose of the promotion is to facilitate Hiconn Electronics' old and new clients. He hopes that worldwide customers enjoy the benefits in this special offer. Worldwide customers can find more details about the promotion at the company's homepage. Also, he promises that the company will spare no energy to create more useful devices at low rates.
Some detailed information about the company's new HDMI TO CVBS Convertersis as follows:
--Hardware conversion, plug and play without any software driver
--Compatible HDMI1.3
--Support NTSC and PAL two standard TV formats
--One HDMI input, one AV output, one stereo output
--Input: HDMI x 1
--Outputs: AV x 1; L / R x 1
--HDMI input: 480P, 576P, 720P, 1080I, 1080P @ 60Hz
--Support the HDCP protocol, support for HDMI 1.3
--CVBS output: 480I, 576I
--Audio output: L/R channels
For additional information, the HDMI TO CVBS Converters from the reliable company come with plenty of characteristics: durable materials, meticulous production, easy use, outstanding practicality and so on. They are offered in many specifications; all of them are user-friendly products.
About Hiconn Electronics
Hiconn Electronics (Shenzhen Hiconn Electronics Co. Ltd.) is devoted to designing and manufacturing a wide range of connection cables and customized cable assemblies, offering many HDMI cables, VGA cables, SATA cables, USB cables, 1394 cables, DVI cables, SCSI (Small Computer System Interface) and more. For more information, please visit http://www.hiconn.net/.
Contact Person: James Yin (Sales Director)
Company Name: Shenzhen Hiconn Electronics Co., Ltd.
Address: Shenghua Building., Xixiang Road., Baoan District, Shenzhen, Guangdong Province, China
Zip Code: 518102
Tel: +86-755-8109 8345
Fax:+86-755-2779 3497