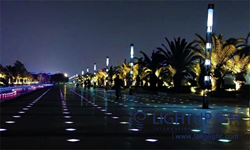 (PRWEB) March 18, 2014
Recently, LIGHTUP LED, a popular manufacture and wholesaler of high quality LED lights, has introduced its high power LED inground lights to expand its overseas market.
On the official website of LIGHTUP LED, customers can see these hot sale models of LED lights easily. Aluminium housing is a standard setting for LED Inground light, but the housing is also available in a variety of different finishes such as stainless steel, polished chrome, bronze and more. The lights come with an IP67 weatherproof rate and a fully vandal proof toughened glass face.
These lights are especially popular for theirs high brightness and low energy consumption. The high quality Luxeon rebel LED source used within the in-ground range gives an extra long service life of 50.000 hours. The company has introduced an LED underground light installation guide for its customers.
"Our LED inground lights can be made with 3, 6, or 12 LED units, and they are Ideal for gardens, parks, sculptures, residential areas, shopping areas, and large architectural projects. You can now illuminate the edge of your deck, pathway or lawn with our premium quality LED inground lights." The CEO of the company says.
About LIGHTUP LED
With over 8 years' experience in the LED industry, LIGHTUP LED (Zhongshan Guzhen LIGHTUP International Technology Co., Ltd.) is a specialized manufacturer and retailer of high-end LED lights. The company is located in Guzhen, the "Silicon Valley" of China's LED industry. They focus on the R&D and manufacturing all types of LED lights. Great product quality, premium customer service and competitive pricing are the reasons for many customers worldwide to choose LIGHTUP LED.
For more information about LIGHTUP LED and its products, please visit: http://www.laitalight.com/Products/led-inground-light.html