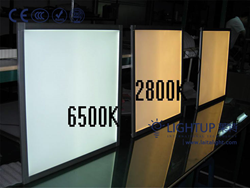 (PRWEB) March 19, 2014
LIGHTUP LED is a patented LED panel light manufacturer and supplier from China. Recently, the business has upgraded its website with its new high power LED panel light collection.
As a leader in the LED industry, LIGHTUP LED make only high quality LED lights made through state-of-the-art process. The company focuses on innovative light sources that include thin, flat and low energy consumption technology and it leads the industry in the manufacture of high quality LED panel lights.
"Our high power LED panel lights have a wide range of applications. The innovative and versatile flat backlighting products are suitable for a variety of applications. Our customers have used them in many commercial LED lighting projects in offices, schools, hotels, kitchens and corridors providing a superior light for any environment," The CEO of the company states.
He adds, "All our LED panel lights are made with 2835 LEDs, instead of 3014/5050 LEDs, which are poorer in quality in terms of lighting effect. Moreover, we can provide the LED lights according to customers' requirement. Choose from the cheapest priced but highest quality commercial LED panel lights right here!" (See: http://www.laitalight.com/Products/LED-Panel-light-6060-36W-48W-2800LM-3600LM.html)
LIGHTUP LED has established itself as a market leader in LED lighting. Its product quality never comes with compromise. The use of cutting edge LED technology makes its panel lights great in performance and economy.
About LIGHTUP LED
LIGHTUP LED (Zhongshan Guzhen LIGHTUP International Technology Co., Ltd.) is located in Guzhen, the "Silicon Valley" of China's LED industry. The company specializes in the R&D and manufacturing all types of LED lights and related products which are environmentally-friendly. They focus on customer service and competitive pricing, which continues to attract more customers from all over the world.
For more information about the company's LED panel lights, please visit: http://www.laitalight.com/Products/led-ceiling-panel-light.html