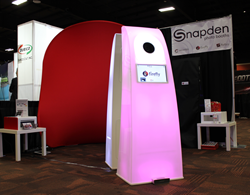 The look of the Firefly was designed to be versatile and not only fit at formal weddings, but make an impact and draw a crowd at punk rock shows. - Kalvis Jaunarajs, CEO.
Denver, Colorado (PRWEB) March 17, 2014
Snapden Photo Booths publically launched its 4th Generation Photo Booth Kiosk at Las Vegas trade show, WPPI on March 3rd 2014. Nicknamed "The Firefly" for its brightly glowing LED system, Snapden's patented design attracted constant attention throughout the show for its innovative design (3-years in the making). The Firefly is currently available for purchase at a promotional rate through March. More info can be found at the Snapden Photo Booth website.
The Glowing Firefly Photo Module is a portable photo booth kiosk that contains all electronics needed to run a mobile photo booth business including camera, flash, touch-screen, computer and (optional) photo printer. The Firefly has a list of premium feature highlighted by the new Firefly Glow System – a proprietary color LED app that is easily programmed for customized events and can connect with DJs to change colors to the beat of music. The Firefly is modern, powerful, portable and easy-to-use.
Portable photo booths have been a growing trend in the event's industry for over seven years. Google Trends estimates a 30% average annual increase in photo booth rentals since 2007. This growing demand has created great opportunities for photo booth rental companies, who typically charge between $600 and $1,100 for a 4-hour photo booth rental.
Over the past few years the photo booth rental market has become crowded with countless businesses offering products with very little physical difference. The primary goal of Snapden in creating the Firefly was to design something modern, which clearly stands apart from traditional, boxy photo booths. Company owner – Kalvis Jaunarajs – was quoted saying, "The look of the Firefly was designed to be versatile and not only fit at formal weddings, but make an impact and draw a crowd at punk rock shows."
The Firefly's modern look drew a crowd for three straight days at the MGM Grand in Las Vegas, attracting people from a distance with its brightly strobing Glow System. One customer was quoted saying, "For me - starting a photo booth business with anything besides Snapden would be settling." The overall consensus at WPPI was that Snapden's line of photo booth products are like nothing else on the market and the Firefly will give any photo booth rental company the competitive edge to stand out in a profitable photo booth rental market.
Snapden sells their line of portable photo booth designs to existing photo booth rental companies; event based businesses looking to offer photo booth rentals; event venues; as well as startup businesses. More information can be found at http://www.snapdenphotobooths.com.
Sales Contact:
Desiree Rushmer
Snapden, LLC
desiree(at)snapden(dot)com
(424) 254-0070
Press Contact:
Kalvis Jaunarajs
Snapden, LLC
kalvis(at)snapden(dot)com