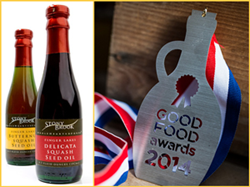 Stony Brook is thrilled to receive recognition for our squash seed oils–it validates our commitment to craft flavorful, wholesome and sustainable food in partnership with local family farms.
Geneva, NY (PRWEB) March 19, 2014
Stony Brook WholeHeartedFoods, maker of culinary squash and pumpkin seed oils in upstate New York, was recently honored as a 2014 Good Food Awards winner. Organized by Seedling Projects, the award ceremony celebrated socially-conscious food entrepreneurs for their commitment to producing authentic and responsible food. Alice Waters, Ruth Reichl and Nell Newman honored the winners onstage, with opening remarks from Dr. Zeke Emanuel. This year's prestigious event was held at the Palace of Fine Arts Theater in San Francisco on January 14.
"Without deep ties to the farmers, foragers and ranchers who care about cultivating and rearing the very best, you could never achieve the level of excellence you have, rising to the top in a blind tasting of 1,450 foods from all 50 states," said Executive Director Sarah Wiener, in her closing remarks to award winners.
A sustainable and unique alternative to large-scale commercial cooking oils, Stony Brook is the only specialty oil company in the US creating culinary oils from winter squash seeds. Stony Brook oils are pressed from seeds exclusively sourced from local family farms. Each bottle has only one ingredient: varietal oil from roasted and expeller-pressed seed, produced without the use of chemical solvents, excessive heat or filtration. The oils are a flavorful source of Vitamin E, antioxidants and free of trans fat, sodium or additives. In addition to local sourcing, all aspects of production are sustainable, with zero waste: seed waste left from pressing is incorporated into animal feed as a source of protein and digestive aid.
Stony Brook oils are a flavorful alternative to imported olive and seed oils and a healthy alternative to butter. The oils have a savory, nutty flavor that goes well with a wide variety of dishes - from pasta, oven-roasted vegetables and grilled meats, to a drizzle on fresh fruit, salad or even atop ice cream.
The oils are available online at http://www.wholeheartedfoods.com, and at natural and specialty food stores nationwide, see Stony Brook's website for locations.