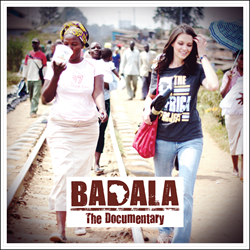 Our goal is to create a movie to inspire others to make the same change that these Kenyan women have made.
Nairobi, Chicago, LA (PRWEB) March 18, 2014
Efforts are underway to raise funding for a new documentary on single mothers of impoverished backgrounds in the slums of Kenya who are building betters lives for them and their families. Executive Producer Jillian Arnold has announced today that she has partnered with Badala non-profit founder Joelle McNamara to create a documentary about the inspirational journey of its Kenyan members who create art to raise themselves out of poverty. Arnold and McNamara have officially launched a Kickstarter campaign to raise funds for the production phase of the documentary process on March 17, 2014.
Set in the chaotic slums of Nairobi, the documentary, BADALA, follows five women as they work to overcome a legacy of extreme poverty, prostitution and violence to build a better life for themselves and their children.  With the help of the Badala non-profit organization, these women create works of art that sell throughout the world -- most importantly, they are creating their financial and emotional independence with their own hands.  
Arnold and McNamara plan to start production in July, with three days of shooting in Chicago, Illinois, and 19 days in Nairobi, Kenya. All of the documentary crew members are volunteers and all proceeds will go the Badala organization. The film plans to find nationwide distribution upon completion of the documentary in 2015.
Badala, which means "Instead," is a grassroots nongovernmental organization (NGO) founded in 2007 by, then 17-year-old Joelle McNamara. Badala's mission is to offer impoverished single women of Eastern Africa a positive means of self-sufficiency for themselves and their families. By teaching these women trades and business skills, Badala offers them alternatives for survival, instead of prostitution, begging, crime and other acts of desperation!
Arnold believes that the bravery, determination, and devout faith of the Badala woman are characteristics that should be recognized internationally. They are constantly proving to their community that gender is not a reason to be held back from happiness, health and financial security. They are role models to inspire other women who may feel desperate or be destitute. Arnold's goal is to create a movie to inspire others to make the same change that these Kenyan women have made.
The BADALA Documentary is a Nairobi, Chicago, Los Angeles based film production that tells the journey of five heroines in the slums of Nairobi, Kenya in the hopes to inspire those who feel hopeless to reach higher. For more information, please call Executive Producer, Jillian Arnold at 714-785-2454 or visit http://www.BadalaDoc.com.
To pledge or learn more about the Kickstarter campaign, please visit: http://www.BadalaDoc.com.