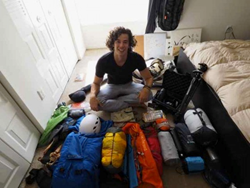 'I can't think of a better group to work with than Positive Tracks to share this message with a youth audience, or better ambassadors to represent this passion and curiosity than Charlie and Grant,' says Majka Burhardt.
Hanover, NH (PRWEB) May 15, 2014
Grant Bemis ditches graduation day at Eckerd College in favor of climbing a remote rock face and critical conservation target in Mozambique. Instead of accepting his degree in environmental studies, the 22-year-old Minnesotan will accompany Majka Burhadt, a professional climber and recent Outside magazine cover-story, and a team of scientists as they search for new species of insects and reptiles on the cliff-side habitat of 7,936-ft Mt Namuli. Climbers Kate Rutherford and Peter Doucette join as expedition leaders, too. Bemis will accompany 19-year-old Charlie Harrison, of Etna, NH. Harrison, who's slated to attend Williams College this fall, calls being able to join the expedition a "crazy stroke of luck."
Burhardt's Additive Adventure and Ukalene Productions have partnered with Positive Tracks to amplify awareness and boost funds raised by Grant and Charlie through the expedition. Positive Tracks is a national non-profit that helps young people turn athletic achievement into meaningful philanthropy. Positive Tracks will double dollars raised by Bemis and Harrison to help fund the expedition's resulting Lost Mountain Film and conservation plan, and a Positive Tracks Lost Mountain Film Short, which will serve as an awareness tool and call to action to Next Gen conservationists across the globe.
Burhardt says, "We're honored to work with Positive Tracks to bring Youth Ambassadors to the Lost Mountain Expedition. Lost Mountain Expedition is about science, conservation and adventure; about pursuing passion and learning about collaboration needed to achieve big, complex goals. I can't think of a better group to work with than Positive Tracks to share this message with a youth audience, or better ambassadors to represent this passion and curiosity than Charlie and Grant."
Bemis and Harrison agree that the expedition is a once in a lifetime experience for born adventurers. Both will participate in all aspects of the project—from climbing and searching for new species, to creating the film, to building a conservation plan with the local community and conservationists.
For Bemis, graduating from college two weeks early was a no-brainer in the face of an opportunity to combine all his interests into one grand package. With a minor in biology and photography, Bemis discovered a passion for field research while tracking large mammals in Honduras. "My mom took me camping from the time I was four," says Bemis, who spent last summer backpacking through Saskatchewan with a friend, and will follow this adventure with a two-man, four-month scientific trash-tracking sailing trip in November.
Harrison, who wraps up a gap year spent ski racing and seeking meaningful adventure, calls this "a wonderful combination of my passions and interests at an ideal time in my life." Harrison's ski racing has taken him to mountain environments throughout the world and fostered resilience for outdoor challenges.
Join them every step of the way by following Lost Mountain Positive Tracks Youth Blog.
About Positive Tracks:
Positive Tracks is a national, youth-centric nonprofit that helps Generation Next get active and give back using the power of sport. The Positive Tracks program plugs into charitable athletic events to double dollars and amplify awareness generated by ages 23 and under. Every dollar raised by youth and matched by Positive Tracks goes to multiple charity partners to benefit the global populations and places served. The end result sees youth of all demographics mobilized to get active and empowered to give back: starting with themselves, starting in their own backyards. Positive Tracks operates out of Hanover, NH and is a program of the Yippee Foundation.
Please Visit: Promo, Facebook
Please Contact: Nini Meyer, Positive Tracks Founder, 603.252.9233