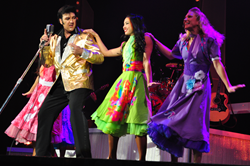 Honolulu, HI (PRWEB) March 17, 2014
Two Sundays a month, Aston Kaanapali Shores will feature complimentary entertainment by the show's star, legendary Elvis impersonator Darren Lee. He will share musical highlights from the show next to the resort's Beach Club Restaurant & Bar and ocean pool deck. Enjoy all the glitz and glam of Lee's award-winning performances, Elvis trivia, and prizes – all set against gorgeous views of the Pacific and offshore islands of Lanai and Molokai. The Beach Club bar will feature its signature "Blue Hawaii" cocktail as the drink of the day.
In what has been called the "most authentic Elvis show ever presented," Lee performs a dynamic 90-minute musical show at the Maui Theatre in Lahaina. This full-scale stage production is uniquely designed to capture Elvis' time in Hawaii and Hawaii's influence on his life, music and movies, featuring No. 1 hits, hip-shaking dance moves, and those legendary outfits. Lee recently finished the longest-running Elvis show in the history of Las Vegas and was the winner of the 1997 World Elvis Competition in Memphis, Tenn.
Visit http://www.AstonHotels.com or call (866) 774-2924 to book your vacation. Performance dates are subject to change.
About Aston Hotels & Resorts
Aston Hotels & Resorts operates a diverse range of condominium resorts and hotels with accommodations from hotel rooms and condominium suites, to villas and cottages that suit any lifestyle, taste or budget. Based in Honolulu, the company manages over 4,100 units in 27 properties on the four major Hawaiian Islands, South Lake Tahoe, California, Lake Las Vegas, Nevada, and Orlando, Florida. For more information, visit http://www.AstonHotels.com or call toll free 866-774-2924.