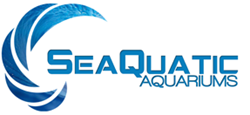 (PRWEB) March 16, 2014
SeaQuatic Aquariums was founded on the principles of dedication to customer service, meticulous attention to detail, and the relentless pursuit of developing superior products. As a part of this mission, SeaQuatic Aquariums is pleased to offer a complimentary consultation on Custom L shape aquariums.
No other company offers the level of technical expertise that SeaQuatic Aquariums does. Our innovative aquariums, proprietary adhesives, patent pending bonding methods, hand crafted synthetic coral reef inserts, and custom cabinetry have transformed the way custom aquariums are viewed.
We have experience manufacturing all acrylic aquariums up to 8,000 gallons and concrete aquariums up to 35,000 gallons. Our patented acrylic bonding method allows us to produce monolithic acrylic panels of virtually any size without the use of traditional seams.
By offering superior products, SeaQuatic Aquariums is quickly becoming the custom aquarium manufacturer of choice for zoological societies, private institutions, casinos, hotels, theme parks, restaurants, resorts, commercial venues and elite residential homeowners. From standard residential aquariums, to multi-million dollar complex exhibits, you can rest assured that SeaQuatic Aquariums will deliver a superior product on time.
About SeaQuatic Aquariums
SeaQuatic Aquariums is the premier custom aquarium design company, providing years of experience, and rock solid customer service. With a commitment to innovative and unique designs, we make your new aquarium the best possible.