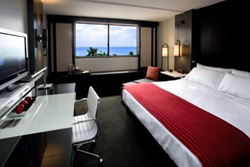 Honolulu, HI (PRWEB) March 17, 2014
With the reDISCOVER package, guests can enjoy accommodations for two at Hotel Renew by Aston which offers a tranquil getaway right in the heart of Waikiki and is just steps from the beach, nightlife, top restaurants and world-class shopping. The 72-room hotel offers an array of personalized perks like a weekly cocktail mixer and exclusive Club Renew amenities, including a chilled beverage and cold towel upon check-in, a mobile concierge service and the use of beach gear.
This special package also includes two private surf lessons or stand-up paddleboard lessons from Waikiki surf pros – perfect for guests of all experience levels. Top off a day in the waves with two signature cocktails at Lounge Renew. Package starts at $273 per night based on double occupancy.
Visit http://www.AstonHotels.com or call (866) 774-2924 to book your vacation. Prices are based on availability, subject to change, and do not include taxes and fees. Other restrictions may apply. Not valid with other promotions.
About Hotel Renew by Aston
Hotel Renew by Aston is a one-of-a-kind property that offers sophisticated serenity throughout its 72 freshly designed rooms. Situated at the center of Waikiki's vibrant shopping and dining area, the boutique hotel is a retreat that promotes wellness and rejuvenation with natural elements reflecting the beauty of Hawaii. Enjoy the personalized service and special amenities offered by the hotel's intimate surroundings, and step into modern tranquility at Hotel Renew by Aston.
About Aston Hotels & Resorts
Aston Hotels & Resorts operates a diverse range of condominium resorts and hotels with accommodations from hotel rooms and condominium suites, to villas and cottages that suit any lifestyle, taste or budget. Based in Honolulu, the company manages over 4,100 units in 27 properties on the four major Hawaiian Islands, South Lake Tahoe, California, Lake Las Vegas, Nevada, and Orlando, Florida. For more information, visit http://www.AstonHotels.com or call toll free 866-774-2924.