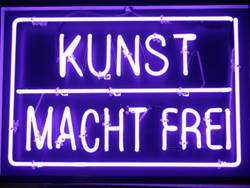 Miami, FL (PRWEB) March 18, 2014
Independent Journalist, Author & Artist Uri Dowbenko, who sued Google Inc. et al for Defamation, Copyright Infringement and RICO Racketeering Conspiracy, is appealing the federal court decision which dismissed the lawsuit.
Dowbenko's lawsuit, dismissed in US District Court for Southern Florida (Case number 13-cv-23546-UU) has been filed in the United States Court of Appeals for the Eleventh Circuit (Case 14-10195-DD)
The Appeal Brief can be found in full here.
Named defendants of the Defamation and RICO Conspiracy charges include Google Inc., as well as Google corporate officers Larry Page, Eric E. Schmidt, Larry Brin, David C. Drummond and the as yet unknown anonymous defamatory bloggers, whose handles are "Chaospet" and "G.D." in the lawsuit claiming $1 million in damages for libel.
Artist Uri Dowbenko, whose website is called Metaphysical Art 2.0, is the author of "Bushwhacked: Inside Stories of True Conspiracy" and "Hoodwinked: Watching Movies with Eyes Wide Open."
Dowbenko's extensive writing includes hundreds of articles, movie reviews, interviews and investigative writing pieces for Fortean Times, Nexus Magazine, New Dawn Magazine, Paranoia Magazine, Steamshovel Press, Media Bypass Magazine, National Review, Spotlight, Nationalist Times, Chronicles Magazine, Nitro News, etc. He is considered one of Alternative Media's foremost writers and media analysts and a distinctive voice of modern American journalism.
In 2000, Uri Dowbenko became the founder and publisher of Alternative Media websites -- Conspiracy Planet, Al Martin Raw, and Conspiracy Digest, as well as the founder and publisher of National Liberty Press, which published the blockbuster autobiographical expose' of the Bush Cabal called "The Conspirators: Secrets of an Iran Contra Insider" by Al Martin.
In 2007 and 2008, his virtual art gallery New Improved Art participated in art fairs in New York City and Miami Beach.
Dowbenko's latest project is a website called New Improved Memoirs for accomplished professionals who want an account of their fabulous lives in their own published autobiography for family, friends and business associates.