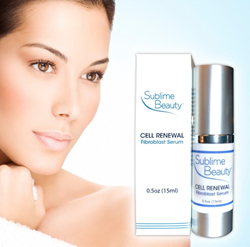 This serum works at the cellular level, telling the fibroblasts in the skin to product collagen - resulting in younger and healthier skin.
St. Petersburg, FL (PRWEB) March 18, 2014
The new serum "Cell Renewal | Fibroblast Serum" from Sublime Beauty® contains highly pure ingredients to help skin become healthier and younger.
"Our clients were asking for a revolutionary, scientific serum to take skin care to the next level," says Kathy Heshelow, founder of Sublime Beauty®. "Our non-embryonic stem cell serum delivers."
The serum is now on sale at the company webstore, SublimeBeautyShop.com. Use coupon code FIBROBLAST20 at checkout for a 20% discount this week only.
Key ingredients include human conditioned fibroblast media, originally used in burn victims. Scientists saw the benefits to aging skin as well. Sublime Beauty® offers a free 6 page brochure about the serum on the Product Page of its webstore.
"The serum is quite expensive to make, and is done so in a highly-controlled lab. This is why it is more expensive for retail - but worth it," says Heshelow.
Sublime Beauty® is a quality skin care company that focuses on anti-aging products. The new webstore, SublimeBeautyShop.com, offers free standard shipping, a VIP Club for bonus points and discounts on future purchases, and the ability to round up purchases and donate to "Stand Up to Cancer" charity.