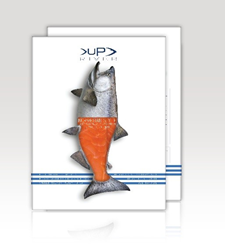 Miami, Florida (PRWEB) March 17, 2014
Today Upriver announced they will debut their new brand and packaging at the Boston Seafood Show 2014. Upriver is most known for their superior quality salmon products and attention to personalized detail. Each salmon fillet is hand cured to ensure just the right amount of tasty rub is applied so every bite is consistent and tantalizing to the taste buds.
They also use traditional smoke house ovens so each salmon has the natural smoke flavor from delicately simmering over a bed of oak chips. This old world process ensures a delicious smoke flavor while maintaining the bold beautiful color that can only come from the highest quality salmon. Each smoked salmon fillet is then fully trimmed by hand and vacuum-sealed to capture that "fresh out of the smoker" taste.
"Our new brand reflects the personal touch we add to every product. We hand cure each fillet so there are no machines injecting colors or flavorings. Each of our team is Upriver Certified ensuring the quality is consistent with every fillet," said Cheryl Lipson, General Manager Upriver. "We take tremendous pride in our product and know we are one of the few in the country that offer the extra touches that make our product award winning. When people ask me what the difference is, I simply tell them to take one taste. We want everyone to come by our booth to not only see the change, but taste the difference!"
Upriver has consistently been delivering superior quality salmon and salmon packaged product since early 2010. The company was formed on the principles of quality and personalized attention. Upriver product is always:

100% all-natural
Non-GMO
Chemical FREE
Preservative FREE
100% Kosher
These are all important qualities as the industry is shifting and changing constantly. Upriver has created their own certification process which demands each salmon farming source meet the highest criteria and standards in the industry. They hold to these strict standards every day with every order. This is certainly why the largest U.S. distributors continue to work with Upriver and why some of the most highly respected retailers known commonly to consumers only choose Upriver salmon.
From day one, Upriver made a commitment to have every person in their Miami facility trained in the traditional ways of processing salmon and hand curing. This attention to detail combined with only sushi grade salmon yields one of the best tasting products on the market. This year the company plans to roll out additional unique products, embark on a global expansion mission and create unique new distribution channels.
Product Information:
Booth 2174 – Boston Seafood Show 2014
Flavored Cold Smoked Salmon
4 oz. Smoked Salmon
8 oz. Smoked Salmon
16 oz. Smoked Salmon
Dips/Salads/Spreads

Whitefish Salad, Dips and Spreads
Smoked Seafood Dip
Baked Salmon Salad
Smoked Salmon Spread
Herring in Cream Sauce
Herring in Wine
Available in 2 x 5lb Case Pkg.7oz. and 15 oz. retail cups sold by the case
Pickled Herring
Herring Cutlets in Cream Sauce
Herring Cutlets in Brine
Herring Cutlets in Wine
Smoked Fish
Smoke Whitefish
Smoke Tuna
Smoke Trout
Smoke Mackerel
Available in 10lb. Pails, 8 oz. & 16 oz. retail cups sold by the case.
Distribution Inquiries – UP RIVER : 305-835-0717 or office(at)upriverone(dot)com
Web Site – http://www.UpRiverOne.com
On-site interviews may be coordinated with Sheila Stewart at sstewart(at)SheilaStewartPR(dot)com or at 303.378.2022 (c).
About
Upriver Aquaculture, Inc. was founded in 2009, and is a privately held corporation based in Miami, FL, and in March 2014 went through a re-branding of their highly acclaimed award winning product. The company has established a reputation for producing and selling a variety of seafood products but has clearly defined a niche in the market with their traditionally smoked salmon. They currently produce their own line of gourmet products (including spreads & dips) in addition to processing and private labeling for several major brands. They offer full production services including: custom smoking, partitioning, vacuumed packaging and repacking. Their products are 100% natural, Kosher Certified and are proudly farm raised GMO free. The company is positioned for global expansion with their sustainable Aquaculture approach. Upriver is affiliated with Power Shark Capital, a Florida based global conglomerate poised to fund and launch numerous products, companies and deals in 2014. For more information contact Sheila Stewart at 303-378-2022 cell or SStewart(at)SheilaStewartPR(dot)com.