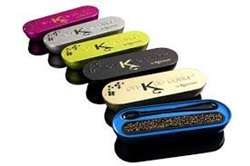 Miami, FL (PRWEB) March 17, 2014
Today Upriver Aquaculture, Inc. announced the exclusive launch of en-K de Caviar into the U.S. market. en-K de Caviar was named Europe's Best New Retail Product at the European Seafood Exposition 2012 in Brussels.
This is the first caviar product to be conveniently packaged in luxurious sophistication for pure enjoyment in any location at any time. The original packaging includes a unique tin that slides open to reveal an exquisite arrangement of glistening caviar (15 grams) and even includes a special caviar spoon.
"This is the first innovative way for anyone to enjoy the world's finest delicacy, caviar. This is revolutionary for the industry because people can now indulge beyond the table and enjoy a level of sophisticated convenience," said Jean-Jean Pelletier, Director of Upriver Aquaculture and CEO of Power Shark Capital. "We are extremely pleased to be selected as the exclusive U.S. distributor and to debut this product at the Boston Seafood Show this year. I am also excited to announce the addition of Kevin Harrington as Advisory Director for Upriver Aquaculture. He will make an in-booth appearance Monday, March 17th from 10 am to 3 pm."
"As the inventor of the infomercial, I am always looking for innovative ways to offer new or existing products to consumers. en-K de Caviar is the ultimate example of pure innovation because it combines sophistication with convenience. Two aspects rare to find executed with such perfection," said Kevin Harrington, Investor in & Director of Power Shark Capital, Inventor of the Infomercial and Celebrity Shark.
en-K de Caviar was first created and launched in Europe by Kaviari, a family-owned company based in the heart of Paris. Known for their exceptional quality and extremely high standards, they select only the finest caviar for every package. From Beluga to Royal Osetra caviar, consumers will enjoy dried fruit notes or even a buttered hazelnut finale. Every tasting is a discovery, a new experience and an indulgence in pure joy. en-K de Caviar allows consumers to start the party by selecting the color of tin, then allows each person to tickle their taste buds, one pearl at a time. They have built a reputation as experts in the caviar industry and icons in building a solid brand.
Kaviari hand selected Upriver Aquaculture as the exclusive U.S. distributor based upon their team's vast global experience in launching products, building sophisticated brands and their knowledge of the high end seafood market. Kaviari also understands the importance of infusing the European culture into the launch of this product, which made for a perfect fit with Jean-Jean Pelletier, Robert P. Pelletier and Vincent Herrmann at the helm. Each executive has over twenty years of experience in the luxury industry and adds a European flair to every product they touch.
The Upriver Aquaculture executive team will apply their commitment to excellence and overall dedication to quality in launching en-K de Caviar in the U.S.
Product Information:

Booth 2174 – Boston Seafood Show 2014
Kevin Harrington, Inventor of the Infomercial in-booth appearance Mon. March 17th 10 am to 3pm
Size - Each tin contains 15 grams of the world's finest caviar selected by certified artisans
Convenience – Each tin is colorfully designed and has a convenient sliding lid complete with a special caviar spoon
Colors Available in Black, Silver, Gold, Indigo Blue, Fuchsia Pink, Apple Green, Electric Orange, Purple Violet and Blue Turquois. Available in 6 boxed set & private label.
European Distribution Locations: en-K de Caviar is currently found throughout Europe in some of the finest locations including:
Grande Epicerie in Paris
Harrods
Chef Antoine Westermann's fine food shop in Strasbourg
U.S. Distribution – currently being negotiated and retailers will be announced as contracts are signed
U.S. Distribution Inquiries – UP RIVER : 305-835-0717 or caviar(at)upriverone(dot)com
Web Site - http://www.enkdecaviar.eu/?lang=en
On-site interviews may be coordinated with Sheila Stewart at sstewart(at)SheilaStewartPR(dot)com or at 303.378.2022 (c).
About
Upriver Aquaculture, Inc. was founded in 2009,is a privately held corporation based in Miami, FL, and in March 2014 announced exclusive distribution for enK de Caviar in the United States. The company has established a reputation for producing and selling a variety of seafood products but has clearly defined a niche in the market with their traditionally smoked salmon. They currently produce their own line of gourmet products (including spreads & dips) in addition to processing and private labeling for several major brands. They offer full production services including: custom smoking, partitioning, vacuumed packaging and repacking. Their products are 100% natural, Kosher Certified and are proudly farm raised GMO free. The company is positioned for global expansion with their sustainable Aquaculture approach. Upriver Aquaculture is affiliated with Power Shark Capital, a Florida based global conglomerate poised to fund and launch numerous products, companies and deals in 2014. For more information contact Sheila Stewart at 303-378-2022 cell or SStewart(at)SheilaStewartPR(dot)com.