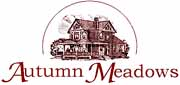 When I started Autumn Meadows in 1985, I knew my number one priority was providing a high quality service at a reasonable price. To this day, that still stays my priority. -Susan Masters, Director
Bowie, MD (PRWEB) March 17, 2014
As the population ages, day-to-day life activities, such as cooking, cleaning and dressing become more challenging, and many individuals turn to assisted living as the ideal solution. Assisted living offers daily support, while helping people remain as independent as possible. However, when one decides that assisted living may be the best option, they realize all too often that it is an unaffordable option. Autumn Meadows Senior Assisted Living, a non-profit organization, endeavors to provide superior care for seniors at affordable costs.
"When I started Autumn Meadows in 1985, I knew my number one priority was providing a high quality service at a reasonable price. To this day, that still stays my priority," says Owner and Director, Susan Masters.
According to a recent study conducted by AssistedLiving.com, the average monthly cost for a one bedroom assisted living apartment in Maryland is $4,177. For many people in the local area, this cost is unaffordable. Also, many facilities quote a reasonable price, but fail to mention their "a la carte" services, including mandatory daily fees for meals, medication administration, and care levels.
At Autumn Meadows the monthly fee is all-inclusive. The only additional add-ons are for individuals who want private cable and phone service in their room, which is $5 and $25 per month respectively. All accommodations are private rooms, and the typical room is $2,500 in Prince George's County and $2,900 in Anne Arundel County. Additionally, the out of pocket cost could be even lower, as Autumn Meadows is a participating provider with the Home and Community-Based Waiver (formerly Medicaid Waiver), Prince George's County subsidy, and Anne Arundel County subsidy. Moreover, many individuals in need of assisted living can qualify for Veterans Aid and Attendance benefits.
Autumn Meadows Office Manager, Jennifer Meyers, always takes the time to discuss these programs with anyone looking for information. According to Mrs. Meyers, "When most people call me inquiring about assisted living, they are usually uninformed about the various financial resources available. Even if they are calling for someone who may not be able to live at Autumn Meadows, I will still spend as much time as they need to advise them of their financial options." Susan Masters' vision of high quality care for seniors at affordable costs still endures almost 30 years later at Autumn Meadows.