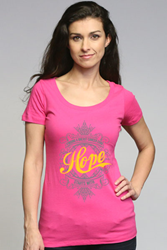 Custom designed t-shirts from Modropy to raise funds and awareness for the fight against breast cancer.
Los Angeles, California (PRWEB) March 17, 2014
Modropy announced today that its next campaign, which runs March 17th-23rd, will support Susan G. Komen, Orange County, to help provide breast cancer patients with the best possible information, treatment and support.
"We are proud to have partnered with Susan G. Komen Orange County this week," explains Michael Girma, Chief Information Officer at Modropy. "Breast cancer is a cause that is close to our hearts and we hope to help further the mission of Susan G. Komen, Orange County with our donation. Moreover, it is a win-win: fashion enthusiasts can indulge in trendy t-shirts while supporting and raising awareness on a worthy cause. $8 will be donated to Susan G. Komen for every t-shirt that is sold on Modropy this week."
Susan G. Komen Orange County is an esteemed non-profit breast health organization that is committed to the Komen vision of a world without breast cancer. With a mission to save lives and end breast cancer forever by empowering people, ensuring quality care for all and energizing science to find the cures, it is the pioneer of many lifesaving breast health initiatives all of which are easily accessible to those in need. 75% of funds raised are invested in local breast health needs and services whilst the remaining 25% is dedicated to the Komen Award and Research Grant Program to fund groundbreaking breast cancer research, thus making a life-changing difference to all those who are affected by breast cancer.
Modropy's focus in this week's campaign will be to raise funds and awareness for Susan G. Komen Orange County so they can continue providing breast cancer patients and their families with much needed hope, help and support.
About Modropy
Modropy is a modern, conscientious philanthropic organization that strives to be a catalyst of social empowerment, humanity and inspiration for this generation. It encourages people to make philanthropy a way of life. This is one organization that aims to be a humble medium between philanthropists and respectable charities. It is a crowd-funding platform that is committed to making a difference in the lives of the less privileged individuals and communities.
Contact
Michael Girma
Email: mike(at)modropy(dot)org
Telephone: 714 248 0995