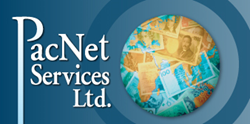 Through PacNet, clients have access to all of the transaction processing services they need in one place, making us a true one-stop shop
Vancouver, BC (PRWEB) March 19, 2014
International payment processing company PacNet Services is busy preparing for their attendance at ad:tech San Francisco, running March 26&27 at Moscone Center West. ad:tech is the leading digital marketing event for 8,500+ marketing and technology professionals from all over the world – a marketplace for buying and selling, a community for networking, a forum for exchanging ideas and an opportunity for contributing to industry trends and initiatives. The payment experts at PacNet are looking forward to adding their international payment processing expertise to the mix on the show floor.
PacNet will be on hand at booth 2630, ready to discuss how an effective payment strategy can boost sales and lift response rates for international campaigns. Attendees are encouraged to drop by the PacNet booth and learn about their comprehensive suite of international payment processing services.
"Through PacNet, clients have access to all of the transaction processing services they need in one place, making us a true one-stop shop" notes Brendan Mahar, VP, Sales and Business Development for PacNet, "There is no need to contract with multiple suppliers to cobble together a full payment processing suite. Companies looking to accept and send multi-currency payments in markets around the world benefit from the ability to build a payment suite perfectly suited to their specific needs. It's easy to set up and simple to use".
ad:tech is an interactive advertising and technology conference and exhibition that covers the entire digital marketing ecosystem. Worldwide events – 10 shows in six countries annually – blend keynote speakers, topic-driven panels and workshops to provide industry professionals with the tools and techniques they need to compete in a changing world.
About PacNet:
PacNet offers a diverse range of both traditional and electronic payment services for direct response online marketers, direct mailers, e-commerce, publishers and more. Some of the payment facilities offered by PacNet include check processing, credit card processing in 130 currencies, direct debit, EFT, ACH and bank transfer collection from the US, UK and around the world. PacNet also initiates outgoing payments by check and EFT for refunds, rebates, commissions and royalties in both major and developing markets around the globe