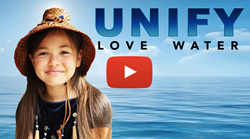 Social change re-imagined, unify.org integrates synchronized local actions to create global transformation in the age of technology.
International (PRWEB) March 18, 2014
Artists, Spiritual Leaders, Indigenous Elders, Youth and more have combined forces with Unify.org's #lovewater campaign to create a powerful, socially and technologically integrated media platform that promises to revolutionize community action towards issues regarding water and beyond. Born out of the med-mob, meditation flash-mob phenomena, and backed by numerous scientific studies that show how meditation, prayer and collective consciousness can affect our physical environment in positive ways, Unify has continued to grow its reach exponentially since its inception. Social change re-imagined, unify.org integrates synchronized local actions to create global transformation in the age of technology.
World Water Day on March 22 is a United Nations Initiative started in 1993. Water, being essential to health, eco-systems, energy and all of life, clearly needs to be a central priority in the global political landscape. Unify.org is making sure this message is heard far and wide.
March 22, 2014 also marks the launch of a year-long campaign designed to garner attention and stimulate action to support water solutions happening around the world. Unify is partnering with organizations like Charity Water and other nonprofits who share the mission of water. The objective is to unify a movement in support of the many socially and ecologically conscious organizations who share common goals.
Unify has launched a #lovewater video featuring 13-year old Sliammon youth Ta'Kaiya Blaney, whose traditional name means "Special Waters". Powerful statements from this young voice for our waters include,
"I can see clearly through the sentimental veil of childhood memories, the voices of my Elders that taught me about the water as a sacred being… I am hear to tell you not to forget… that the human race is a dynamic of diversity, and in the end it does not matter who you are, your race, religion, or your wealth… for we all drink from the same world wide well. There is beauty in every drop of water and when water flows together it is powerful… We are water, and together we create change."
We are aware of issues like Fukushima, drought in California and elsewhere, flooding, toxic spills like West Virginia and Deep Horizon catastrophe, the assault of fracking chemicals in aquifers, polar ice melt, and others which is why we are launching a solutions-oriented campaign. When water is threatened, all of life is threatened. Together unified we can create a better future for all.
This is a wave of awareness, action, and love for all things sacred within the web of life. No water. No life. Know water. Know life!