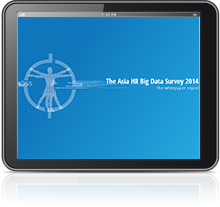 ...today's whitepaper exposes a clear lack of understanding of what an HR Big Data strategy across Asia should look like, and the lack of options available to the market to meet this demand.
Singapore (PRWEB) March 17, 2014
As the spotlight continues to shine on HR Big Data and with no sign that interest is waning, the state of Big Data for human resources in the APAC region is, in reality, still very much in its infancy. This is according to a new study sponsored by HRBoss, which exposes the many challenges the Asia-based HR department faces in adopting a data-driven approach in 2014.
HRBoss surveyed 427 professionals - including C-suite level senior executives, managers, and directors - from a broad range of industries and companies including Mitsubishi Corporation, Samsung, Baker& McKenzie, McDermott Asia Pacific, DHL, Fuji Xerox, Motorola, Mondelez, Delaware Consulting and Wal-mart.
Today's publication of the whitepaper marks the first of its kind for Asia, investigating how HR is prepared for and coping with the 'Big Data Deluge'. A sample of takeaways from the survey report include the following:

Only 23% of Asia-based human resources professionals know what HR Big Data is
79% claim that a Big Data strategy is a priority in 2014 - but 98% have no Big Data strategy in place
HR is stuck in Excel Hell: 92% are frustrated by their reporting process
HR want to be strategic - but 80% do not have the right tools to get there
"This study provides a glimpse into the landscape of HR Big Data in Asia and proves that Big Data remains a concept that most HR professionals here are unfamiliar with," said Bernie Schiemer, CEO and founder of HRBoss. "There is an overwhelming amount of studies extolling the positive impact of Big Data on businesses and a growing impetus for companies to explore predictive analytics to decode their workforce. However, today's whitepaper exposes a clear lack of understanding of what an HR Big Data strategy across Asia should look like, and the lack of options available to the market to meet this demand."
Schiemer added, "Multiple data sources and a demanding reporting cycle means that HR is spending a disproportionate amount of time on reporting. C-level leaders' appetite to consume increasingly detailed reports on the workforce is growing and, in accordance with this, we're seeing a mounting pressure on HR to meet this demand. When it comes to running a successful business, time is money. In today's hyper-competitive environment, if executives are spending a large amount of time simply generating reports, then decision-makers are increasingly hampered from making timely decisions."
The survey reveals that 92% are frustrated by their HR reporting process and how long they need to take to create these reports. 88% of HR professionals spend 2 days or more creating reports and 22 % spend a minimum of 6 days per month on reports.
Responses also show that while HR wants to be strategic, 80% say they do not have the right tools to get there. According to the report, the top 2 biggest roadblocks hampering HR Big Data initiatives are lack of in-house data analysis expertise and inadequate IT systems for data management and reporting.
Schiemer remarked, "Ultimately, this study shows that HR do see the advantages that Big Data has to offer them. For Big Data to add value to businesses in Asia, current CHROs and HRDs need to foster a more strategic environment within their own organisations. To harness the power of Big Data for HR they need to look at advanced data analytics solutions, like EmployeeBoss, that can help them efficiently process, manage and visualise data. Big Data is like the internet in 1996: we knew it was coming but we could not foresee the impact it would have on our lives. Noise or not, we believe that Big Data will provoke a similar transformation and will richly reward early adopters, similar to those firms that embraced the internet in the mid-nineties."
The full report of Asia HR Big Data Survey 2014 Whitepaper Report is available for download here.
About HRBoss
HRBoss is Asia's leading provider of data-driven software for both corporate HR and recruiting firms. EmployeeBoss is our award-winning workforce analytics platform that makes getting started with an HR Big Data strategy easy. Founded in 2011, we are rapidly expanding our footprint across Asia with offices currently open in 7 countries today (Singapore, Japan, Vietnam, Indonesia, China, Malaysia and Hong Kong) and additional Asian, European and US offices launching in 2014.
All of our Cloud solutions are intuitive, highly-configurable and are supported locally on-the-ground where you are. HRBoss services companies from all industries, from local start-ups and government agencies through to industry leaders, including Nissan, the Economic Development Board of Singapore, MichaelPage International and MetLife.
Recent accolades include Best SaaS (international) at the 2014 Cloud Awards | Best Big Data Solution at the China HR Pioneer Awards 2013 | Best Software-as-a-Solution at the 2013 SiTF Awards.