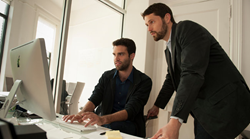 "I'm excited to give people the chance to invest in their neighborhoods and have the same opportunities to participate financially in local development that was previously only available to real estate companies and investment funds." - Ben Miler
Washington, D.C. (PRWEB) March 19, 2014
Fundrise, a leading equity crowdfunding platform that directly links investors with prime real estate properties, launched its third Regulation A offering when it made public 1539 7th Street NW to Washington DC, Virginia and Maryland residents. You can view the offering here: https://fundrise.com/offerings/15/view
Founded by Ben and Dan Miller in 2012, Fundrise was the first to take commercial real estate investing to the online market. It has stayed true to form by being the only company to have successfully used Regulation A to make realty offerings to the public. "I'm excited to give people the chance to invest in their neighborhoods and have the same opportunities to participate financially in local development that was previously only available to real estate companies and investment funds," said Fundrise's Ben Miller.
Situated in the heart of the fast-growing Shaw neighborhood of Washington, DC, this large two-story, 3000 square foot building was built in 1900 and renovated in 2006. Surrounded by an abundance of new development and two blocks from the metro, the property will be leased by the owners, WestMill Capital Partners, to a restaurant or a retail store.
This represents the 18th project that Fundrise has launched thus far. With Ben Miller having to go state to state to enlist support for public offerings, it is no wonder that Fundrise is a leading trendsetter on the real estate radar. Last year the company 'tested the waters' by introducing this investment in theoretical form to gauge the interest of the public. The overwhelming positive response led Fundrise to make the property available for actual investment.
The offering size is $350,000. There is currently a 21-day viewing period and the offering is expected to go live on March 26, 2014. Investors, accredited and unaccredited alike, will be able to participate in this offering by investing as little as $100. The return on investment is projected to be 8% and will be paid out in quarterly investments. This offering has a redemption period of five (5) years, after which the investment principal is projected to be returned to investors. If the sponsor elects not to return the principal, the preferred return for Year 6 will increase to 12%, with incremental increases of 2% for every year subsequent to the redemption year.
This offering highlights title IV of the JOBS Act which seeks to increase the small offerings exemptions from $5 to $50 million that can be raised publicly over a 12-month period. Fundrise has taken an old concept of Direct Public Offering of soliciting funding from the public to finance small business ventures and innovation, to property ownership. Investments can be made by both accredited and unaccredited investors -- enabling community members to contribute to local development, no matter how small their investment.
Fundrise is able to make the current offering available to residents of the three states in which the offering is registered. Regardless of what the SEC announces when deliberations are through, Fundrise has developed a model of raising funds that is unprecedented in real estate. With three successful Regulation A (and 18 total) offerings, and no doubt more in the wings, other states will soon be lining up behind DC, Maryland and Virginia to be a part of this growing phenomenon.
Fundrise will be at the April 24 Global Real Estate Crowdfunding Conference in New York. For more info, visit:
http://thesoholoft.com/conferences/global-real-estate-crowdfunding-conference-ii-new-york-city/
About Fundrise (http://www.fundrise.com)
Launched in August 2012, Fundrise is the commercial real estate investment platform that democratizes the way people invest in their city. By cutting out traditional middlemen and financial intermediaries, Fundrise gives people the ability to invest directly without unnecessary fees. With Fundrise, people have the power to take part in neighborhood growth, while earning potential financial returns.
MEDIA CONTACT:
Victoria Global (http://www.victoriaglobal.co)
Victoria Global is your leading content and communications marketing partner with expertise and network in both institutional investing and crowd financing. With a history deeply intertwined with financial innovation, Victoria Global offers an integrated approach to cutting edge public and investor relations using balanced and multi-tiered systems and strategies.
The Victoria Global integrated approach is a balanced approach: Combining thought leadership and targeted engagement to drive a positive, sustainable and long-term impact to building brand awareness and loyalty.
The Victoria Global integrated approach is a multi-tiered approach: Linking traditional media channels and strategic optimization of new media like blogger outreach, social networks, platforms and technologies to propel a creative, organic and solid growth to customer and audience engagement.
As your leading content and communications marketing partner, Victoria Global is all about knowing and connecting with your crowd.
For inquiries, please contact info(at)victoriaglobal(dot)co