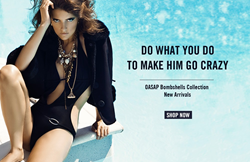 Some of the products are even as low as $3.90 per piece.
New York (PRWEB) March 19, 2014
As party season is approaching, it's never too early to start planning to purchase a new evening dress. OASAP, a global women clothing brand, has launched its Bombshell collection of party dress today, bringing the latest dress fashion trend.
To be beautiful is the innate desire of every woman. OASAP is on the way to help every woman to be beautiful than ever. At this time, it has designed the unique prom dress for global fashion lovers for the upcoming summer. Now it's time for you to rock them and to be the star of the evening!
Summer nights are times of fashion parties. To stand out from the many fascinating girls, sexy dress is the magic weapon. OASAP design allows for revealing shoulder lines and perfectly bare clavicles. From sexy sleeveless little black dress to cutout leopard mini dress, from one sleeve mini lace dress to strapless overlay dress; OASAP Bombshells collection will better accentuate body curves and make you the star of the evening!
The collection hits OASAP store from now on, with prices starting as little as $9.52. "Yes, you read right. We reduce the price under $10 a piece for some hot dresses, since we receive a batch of orders which make us be able to get awesome price from the provider," said Mrs. Robin, OASAP Marketing Director, "And actually, one can still share 16% off for the first order on oasap.com."
Besides this one particular collection, there are more collections from OASAP for the passionate summer: sexy swimwear, cartoon swimsuit and beach bikini. Some of the products are even as low as $3.90 per piece.
About OASAP
OASAP is a global online women fashion store dedicated to high-street fashion by offering various kinds of women's apparel, bags, shoes, jewelers, accessories, beauty products, etc.
OASAP was founded in late 2011, however, has already grown to the leader of high fashion online store. We keep updating products at a high rate every day. Those products mentioned definitely belong to the latest fashion trend.