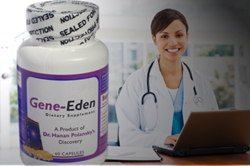 When a person tests positive for either strain of herpes, we recommend speaking to the doctor about Gene-Eden-VIR. – Mike Evans, polyDNA
Rochester, NY (PRWEB) March 17, 2014
Many people wonder if they can be infected with both strains of the herpes virus. HSV-1 causes oral herpes. HSV-2 causes genital herpes. However, a study said that "recent reports suggest that HSV-1 and HSV-2 can each infect both the upper and lower half of the body causing a variety of symptoms and there is a possibility that HSV-1 and HSV-2 infections can occur simultaneously with both causing symptoms." (See the Journal of Medical Virology, from May 2008) (1). In other words, an individual can be infected with both strains (HSV-1 and HSV-2) of the herpes virus. polyDNA therefore suggests that individuals talk to their doctors about Gene-Eden-VIR, which helps the immune system target both latent herpes viruses. This natural antiviral was proven to reduce herpes symptoms in a post-marketing clinical study that followed FDA guidelines.
Importantly, the study found that co-infection with HSV-1 and HSV-2 "is comparatively higher than those of previous reports (1)." Thus, many people may be infected with both herpes strains and may not realize it. Moreover, each strain can infect areas of the body normally associated with the other strain. For example, HSV-2, which is normally associated with genital herpes, can also infect the mouth. Likewise, HSV-1, which is normally associated with oral herpes, can infect the genitals. "HSV-1 and HSV-2 can each infect both the upper and lower half of the body causing a variety of symptoms (1)."
"Herpes simplex virus type 1 (HSV-1) is usually the cause of oral infection. After primary infection, HSV-1 becomes latent, usually in the dorsal root ganglia of the trigeminal nerve." (See Patient.co.uk, last checked October 15, 2013) (2). "Cold sore lesions are the most common form of recurrent disease. They tend to occur in the same location, be unilateral and recur two or three times a year on average. Prodromal (EXPLAIN)symptoms may occur 6-24 hours before the appearance of a lesion and include tingling, pain and/or itching in the perioral area (Explain). Cold sores are usually seen on the lips and extend to the skin around the mouth (2)."
Herpes Simplex virus type 2 (HSV-2) is usually the cause of genital herpes. "In the United States, about one out of every six people aged 14 to 49 years have genital herpes. Fluids found in a herpes sore carry the virus, and contact with those fluids can cause infection. You can also get herpes from an infected sex partner who does not have a visible sore or who may not know he or she is infected because the virus can be released through your skin and spread the infection to your sex partner(s)." (See the CDC, last updated January 23, 2014) (3). "Most individuals infected with … HSV-2 are asymptomatic, or have very mild symptoms that go unnoticed or are mistaken for another skin condition. As a result, 81.1% of infected individuals remain unaware of their infection. When symptoms do occur, they typically appear as one or more vesicles on or around the genitals, rectum or mouth. The average incubation period after exposure is 4 days (range, 2 to 12). The vesicles break and leave painful ulcers that may take two to four weeks to heal. Experiencing these symptoms is referred to as having an "outbreak," or episode (3)."
In light of this information, polyDNA recommends Gene-Eden-VIR. This affordable natural antiviral product was designed to help the immune system target the latent herpes virus.
After hearing some of these facts, survey respondent Jill B. said, "I had a terrible experience where the doctor diagnosed me with this incurable, life changing, heart stoppingly terrible illness. She told me I actually had both strains of HSV, and I was like, 'How is that even possible?'"
"When a person tests positive for either strain of herpes, we recommend speaking to the doctor about Gene-Eden-VIR." – Mike Evans, polyDNA
In a post marketing clinical study published on August 12, 2013 in the medical journal Pharmacology & Pharmacy in a special edition on Advances in Antiviral Drugs, researchers showed that Gene-Eden-VIR is safe and effective (4). Additionally, up to 70% of those studied reported a decrease in viral symptoms, and users experienced an increase in overall health (4).
Each ingredient of Gene-Eden-VIR was chosen through a scientific approach. Scientists scanned thousands of scientific and medical papers published in various medical and scientific journals around the world to identify the safest, most effective natural ingredients that target the latent HSV-2. (4)
To learn more about Gene-Eden-VIR and herpes, visit: http://gene-eden-kill-virus.com/Herpes-Remedy.php. All orders of Gene-Eden-VIR are completely confidential, and no information is shared or sold to any third party. Privacy is assured.
Reference:
(1) Evaluation of mixed infection cases with both herpes simplex virus types 1 and 2. Published in May 2008.
http://www.ncbi.nlm.nih.gov/pubmed/18360901
(2) Herpes Simplex Oral. Last Checked on October 15, 2013.
http://www.patient.co.uk/doctor/herpes-simplex-oral
(3) CDC - Genital Herpes - CDC Fact Sheet. Last Updated on February 13, 2013.
http://www.cdc.gov/std/Herpes/STDFact-Herpes-detailed.htm
(4) Gene-Eden-VIR Is Antiviral: Results of a Post Marketing Clinical Study. Published on August 12, 2013.
http://gene-eden-kill-virus.com/PP_Gene-Eden-VIR-is-Antiviral.pdf
polyDNA is a biotechnology company that develops dietary supplements using the unique scientific method developed by Dr. Hanan Polansky, which is based on Computer Intuition.
In addition to his unique scientific method, Dr. Polansky published the highly acclaimed scientific discovery, called Microcompetition with Foreign DNA. The discovery explains how foreign DNA fragments, and specifically, DNA of latent viruses, cause most major diseases.
polyDNA developed Gene-Eden-VIR , an antiviral natural remedy that helps the immune system kill latent viruses.