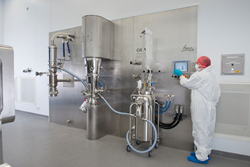 "As far as PharmaConnect® is concerned," said Mark Rowland, "we'll be showing the mobile control system, with a PMA™-20 high shear granulator and the NICA™ IPS5 integrated extruder and spheronizer unit."
(PRWEB) March 17, 2014
INTERPHEX 2014 will take place in March (18–20) at the Javits Center in New York (New York, USA). GEA Pharma Systems, the leading international supplier of advanced processing technologies for the production of oral and parenteral dosage forms, will once again be exhibiting (Stand 2421). Mark Rowland, Product Manager at GEA Pharma Systems, explained why the company will be there and what visitors can expect to see.
Asked why he thinks INTERPHEX New York is an important event for GEA, Mark said: "INTERPHEX is the primary show in the USA for the process industry to demonstrate its equipment and meet its customers — old and new — on an annual basis. I will be there, as Product Manager, specifically to support and promote our Aeromatic-Fielder™ and Collette™ granulation technologies — both in terms of fluid bed drying and high shear granulation— our Courtoy™ tablet compression expertise, the continuous ConsiGma™ line and our NICA™ pelletization equipment, for GEA Pharma Systems. We're demonstrating the granulation and pelletization technologies on stand and we invite visitors to come to see us to discuss these technologies as well as fluid bed processing during the show."
Taking center stage is the PharmaConnect®, which allows a number of diverse process modules from GEA companies to be docked to one control module. The primary processes are based around Aeromatic-Fielder's PMA™ granulator technology. The modular format of PharmaConnect® enables special modules to be used for customer-specific requirements, such as non-standard capacities, different shapes or even different materials such as glass. "As far as PharmaConnect® is concerned," said Mark, "we'll be showing the mobile control system, with a PMA™-20 high shear granulator and the NICA™ IPS5 integrated extruder and spheronizer unit."
Mark further explained that there are two versions of the PharmaConnect®, a through-the-wall option and the exhibited mobile control unit: each option has its benefits; it's nice to have a fixed installation if you have the capability to accommodate through-the-wall, but both control units perform exactly the same function.
Designed for laboratory through to pilot plant scale, the PharmaConnect® can handle anywhere from 200 g of material up to 25 kg. "We're soon to launch an extended range of PharmaConnect®," said Mark, "which will allow us to process up to 60 kg of product."
Plug-and-Play and Beyond
"And," added Mark, "PharmaConnect® is all about plug-and-play; in addition to the control unit, all of the process modules are plug-and-play. For example, we have a range of eight different PMATM high shear granulators, from 1 to 60 L, as well as two size ranges of Buck Systems™ IBC blenders (up to 75 L). As I mentioned, the NICA™ IPS5 module covers extrusion/spheronization."
GEA Pharma Systems also offers the TRV, which is a high-speed blending unit, featuring a single, bottom driven impeller drive. It is particularly suitable for the rapid batch blending of small quantities of pharmaceutical active ingredients with base excipients, typical of inhalable products. It provides benefits by enabling exceptionally homogenous blending. "The %RSD (relative standard deviation) of the blended material is often less than 1%, the lowest of any technologies available in the inhalation blending industry," noted Mark.
MRS and PAT
Behind the plug-and-play operation is the Module Recognition System (MRS). Whenever you introduce a new process module, the operator doesn't need to make any modifications to the control system itself; he or she just plugs the process module in to the control unit and the system will instantly recognize the type and capacity of the module, and will automatically set up the control system with all the necessary parameters, displaying the appropriate process on the screen.
And, of course, the system is PAT-compatible. Mark explained: "With the PMATM TRV and IBC blenders, we have the capability for online monitoring, with the Lighthouse Probe™ offering complete wavelength monitoring to look at blend homogeneity; a second IR application for the PMA™ looks at the moisture content within the granule to evaluate the end-point of the granulation process."
Take-Home Message
Mark sees INTERPHEX as a great opportunity to meet new customers and generate new business, and to showcase and demonstrate our equipment. He concluded: "I'm looking forward to catching up with some of our established clients and, of course, coming home with one or two new leads."