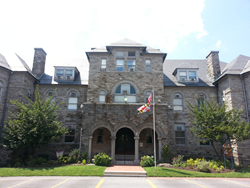 Today is a proud day for Baltimore Lab School. Going forward, we plan to raise our profile in Baltimore and continue to transform the lives of our students with the support of our amazing faculty and staff.
Baltimore, MD (PRWEB) March 19, 2014
Baltimore Lab School, which educates students with learning differences in grades 1-12, today announced the purchase of Old Goucher Hall, located at 2220 Saint Paul Street. Along with the purchase of the 43,600 square foot building, Baltimore Lab School and The Lab School of Washington jointly announced a formal and cooperative separation.
The separation allows Baltimore Lab School, which opened in 2000 as a division of The Lab School of Washington, to operate and raise funds independently. Funding for the $1.5 million purchase came from substantial family and community donations, combined with financing from Susquehanna Bank.
"Today is a proud day for Baltimore Lab School," said John Magladery, President of the school's Board of Directors. "Since our founding over 14 years ago by the remarkable Sally L. Smith, the vision has always been to stand on our own. Going forward, we plan to raise our profile in Baltimore and continue to transform the lives of our students with the support of our amazing faculty and staff."
In the near term, the only changes that students and teachers at Baltimore Lab will experience will be capital improvements to the campus. Longer term, school leadership believes that operating independently will allow the school to flourish by reaching more Baltimore families and deepening roots in the community.
"Every day here at Baltimore Lab School we see the light in children's eyes grow brighter as they learn and gain confidence through our arts-based curriculum," said Head of School David Lightfoot. "As we begin to operate independently, our goal will be for more families and children in the Baltimore area to become aware of our presence and find out if we might be the right fit."
Added Katherine Schantz, Head of School of The Lab School of Washington, "This is a very exciting time in the life of the Lab School of Baltimore and one that will offer many opportunities for growth and development. Baltimore Lab joins AIM Academy in Philadelphia and Gateway Lab School in Wilmington as independently operated "Lab" schools inspired by Sally L. Smith."
Old Goucher Hall
Baltimore Lab School moved to Old Goucher Hall in 2004, following two years in Roland Park at the former home of The Odyssey School. Port Discovery Children's Museum served as the school's initial home, from 2000-2002.
Famed 19th century architect Stanford White designed Old Goucher Hall, which serves as a focal point of a Baltimore neighborhood that's actually called "Old Goucher." The school's arts-based curriculum makes it a natural fit for its neighbors in Charles Village and so many outstanding local universities, including Johns Hopkins, MICA, and the University of Baltimore. Baltimore Lab School is currently home to nearly 100 students and approximately 50 faculty, staff, and related service professionals.
Arts-Based Curriculum
Baltimore Lab School approaches education from a completely unique perspective. Working with a student population of bright, motivated students, the school's educators craft engaging, multi-sensory lessons and activities. With small class sizes and a 6-to-1 student to teacher ratio, every student at Lab School receives a high level of individual attention.
Founder Sally L. Smith's innovative Academic Club Methodology features a series of socially rich and academically rewarding Academic Clubs in the Lower School. Throughout the series, students immerse themselves in humanities, while learning the importance of teamwork, building confidence, and living the experience. As members of Discovery Club, for example, students explore the natural world as park rangers and historical figures like Teddy Roosevelt and John Muir, while studying conservation, environmentalism, and advocacy. Through this hands-on approach, students overcome difficulties with reading, writing, spelling, and math.
The experiential "learn by doing" strategy continues in the rigorous Middle and High School years, as students are strategically immersed in outdoor education and cultural explorations. Students write, draw, paint, film, and perform about history, literature, and culture after frequenting museums and theaters throughout Baltimore, and enjoying annual academic trips to destinations like New York, Boston, Philadelphia, and Washington D.C.
Older students may attend field trips abroad to destinations such as Costa Rica, England, France, and Spain. All students have the opportunity in 11th or 12th grade to participate in Baltimore Lab's Internship Program, where they commit to interning at a local business or charitable organization to gain valuable life skills and preparation for Life After Lab. The approach is so successful that the majority of Baltimore Lab School graduates attend college, including many prominent and highly regarded universities.
About Baltimore Lab School
Founded by visionary educator Sally L. Smith in 2000, Baltimore Lab School educates bright, motivated children with learning differences like dyslexia, ADHD, and more, in an environment of inquiry and hands-on exploration. Through our innovative, arts-based curriculum, our students go on to succeed in college and careers as engaged and compassionate members of a global society.