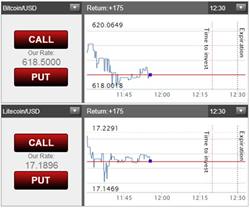 (PRWEB UK) 18 March 2014
TRADOLOGIC's latest addition to the diversity of products it offers is binary option trading of digital currencies, regarded by many as the currency of the future. TRADOLOGIC again confirms its leading position by being one of the first binary option software providers to offer Bitcoin/USD and Litecoin/USD assets where traders place a bet on Bitcoin and Litecoin price fluctuations.
Binary options make trading on Bitcoins simple, convenient and require only a small invest amount. Buying the actual Bitcoins involves a high degree of risk while using TRADOLOGIC's software, binary option operators offer safety in the rapidly changing financial world.
The currency of the future is gaining increasing popularity in the financial world. Bitcoin binary option trading is widely popular among the company's white labels as it gives them the chance to attract more traders, thus increase their revenues.
About TRADOLOGIC
TRADOLOGIC is an award-winning software provider for binary options trading to the financial and gaming industry. TRADOLOGIC's team pioneers in the binary option trading field and possesses a first-hand insight and deep knowledge about the financial trading industry. Currently, the company offers its clients a variety of products including option types, trading tools, advanced features, integration solutions and services that deliver outstanding trading experience and optimized user value.