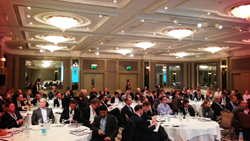 The 'go to' event for energy trading regulation.
London, UK (PRWEB UK) 18 March 2014
IRN hosted last week the 4th edition of the Energy Trading Regulations & Compliance Summit at the Hyatt – The Churchill Hotel in London. The Summit gathered over 130 participants including regulators (FCA, E-Control and ElCom) and senior practitioners from energy trading companies. Key service providers (pre- and post-trade services), consultants and technology providers were also present.
Over the two days, a lot of discussions took place. Expert speakers gave the latest status on each one of the regulations. They also gave a detailed explanation of the requirements under EMIR, MiFID II and Dodd-Frank Act, around capital requirement, segregation, risk mitigation techniques application, definition of position limit and position reporting, extraterritoriality, etc.
''The 'go to' event for energy trading regulation,'' ETR Advisory.
''Focused, informative, practical summit that will benefit anyone concerned with energy regulation implementation,'' Enovos.
The audience showed great participation, and the discussions, including one on compliance strategy and another one on the feedback from TRs and industry on reporting, were very animated, as participants were very keen on benchmarking with their peers on compliance strategy and on their advancement around regulations implementations.
The Chairman of the two days, Charles Cerria, Associate General Counsel – Trading at Hess Corporation, emphasised the need for this kind of discussions and invited everyone in the room to be there for ETRC 2015.
Attendance Statistics:
Energy Trading Companies: 61%
Technology Providers: 16%
Consultancies: 10%
Trade Repositories: 6%
Associations / Press: 4%
Regulators: 3%
Attending Companies:
Actiance Europe Ltd.
Agder Energi
Alpiq
Alpiq Management AG
Argus Media
Automated Trader Ltd
Axpo Services AG
Axpo, Italy
BG Group
BKW Energie AG
BNP Paribas
Bord Gáis Energy
ČEZ, a.s.
DELTA Energy BV
d-fine GmbH
Digiterre
DONG Energy
Drax Power Limited
DTCC
DTCC Deriv/ SERV
E.ON Trading
e-control
Edison Trading SPA
EFET (European Federation of Energy Traders)
EnBW Trading
Energeya
Enovos Luxembourg
ESB
ETR Advisory LTD
ExxonMobil
Ezpada s.r.o.
Federal Electricity Commission (ElCom)
Financial Conduct Authority
Fortum
GasTerra b.v.
Gazprom Marketing and Trading Ltd
GDF Suez
GEN-I, d.o.o.
Griffin Markets Limited
Gunvor International BV
Hess Corporation
ICAP
ICAP Energy AS
ICIS
Interfax
ISDA
KELER Ltd
Lampiris SA
London Stock Exchange Group
NASDAQ OMX
Neas Energy A/S
Neste Oil Oyj
OMV
OpenLink
Opportune Consulting Ltd
Ponton Gmbh
Public Power Corporation
PX Limited
Regis-TR
RWE Ceska republica a.s.
RWE Supply & Trading GmbH
Shell Trading
Sirius Solutions
SNGN Romgaz SA
Socar Trading SA
Statkraft AS
Statkraft Germany GmbH
Statoil (UK) LTD
SunGard Consulting Services
Thomson Reuters
Tradelogic Ltd
Trayport
TriOptima
Tullow Oil Plc
Vattenfall
Wingas GmbH
For more information on the annual summit and/or inquiries on purchasing documentation, please contact Jessica Jonah at JessicaJ(at)irn-international.com or the Conference Producer at MarieP(at)irn-international.com