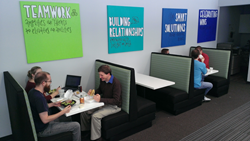 All of our booths are made here in the U.S.A. by skilled artisans.
Newberry, FL (PRWEB) March 17, 2014
Leading restaurant furniture manufacturer and distributor Affordable Seating recently collaborated with digital media agency 352 to create a stylish, comfortable staff lounge by providing them with premium dining booths.
352 is a company that creates websites, applications, and marketing campaigns for clients ranging from startups and mid-sized businesses to Fortune 500 companies like Autotrader.com, Microsoft, and Wells Fargo. In addition to this, the company can do effective marketing campaigns that can provide more traffic and business to a company. These services enable 352 Media Group to be one of the leaders in their trade.
One of the main things that distinguishes 352 from other digital media firms is the fact that team members place great importance on customer service. Team members are available to be contacted, and each one cares about the work that is done for every client. The result of this is that customers have the site and marketing that they want, and they are pleased with the work that 352 Media Group has accomplished.
Peter VanRysdam, one of the founding partners of 352 wanted to create a casual spot where employees can enjoy lunch or break away for impromptu meetings. He decided to go with Affordable Seating's Plain Back Custom Booth in 48" in length and height. He bought single booths which sell for $328 and double booths which sell for $558 with the custom options he chose. The prices for Plain Back Custom booths start at $175 and come in a wide range of fabric and vinyl options. All of Affordable Seating's booths are made in the USA. They can be custom made to any specifications out of any material and in any shape or size.
"The Plain Back Custom Booths were perfect for what the team at 352 were looking for," remarked Dave. "The Plain Back Booths are comfortable and functional, with long-lasting durability and are reputed for their fine craftsmanship. Affordable Seating has a wide selection of dining booths in many shapes, colors and fabrics and can also be custom made in any shape, size or fabric. We are proud that all of our booths are made here in the U.S.A. by skilled artisans."
To view Affordable Seating's full selection of restaurant chairs, bar stools, booths, tables and patio furniture, visit http://www.affordableseating.net or call a customer service representative at (888) 495-8884.
352 Media is located at 133 SW 130TH TERR. In Newberry, FL. They can be contacted at (352) 374-9657 or you can visit their website at http://www.352media.com/.