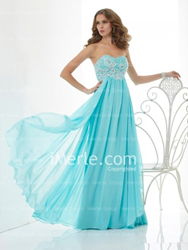 (PRWEB) March 17, 2014
iMerle, a renowned wedding dress manufacturer and retailer, has recently updated its new website with a user-friendly French channel. This morning, the company has also unveiled its latest collection of modern bridesmaid dresses. All of these graceful outfits come with huge price cuts, up to 64% off.
"We are excited to release our new selection of modern bridesmaid dresses. We know that each lady wants to leave a good impression on others. Thus, we are now trying to create more fashionable outfits. By launching the special offer, we want to popularize our beautiful gowns and explore the online market. By the way, the new channel is specially set up to make things more convenient for the French customers," a senior spokesman for the company says.
The company has nearly 500 different kinds of wedding dresses and women's special occasion outfits in stock; a large proportion of them are offered at low rates now. At iMerle's online store, worldwide customers can look elegant without paying a lot of money.
As we all know, providing first-class outfits is not an easy job. Fortunately, iMerle has a creative and innovative design team that can always make the best items.
About iMerle Ltd.
iMerle Ltd. is a UK based dress company offering many wedding party dresses and cute accessories at affordable prices. Customers' satisfaction is the company's top priority, and its team is standing by to assist any client while shopping. The company is now very famous for its outstanding quality in fabric, materials, and fit without the inconvenience and costs of traditional bridal boutiques and retailers.
More details at Facebook: http://www.facebook.com/iMerleCo or website: http://www.imerle.com/fr/.