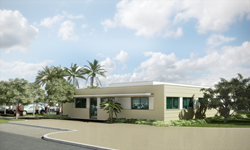 (PRWEB UK) 19 March 2014
In association with Eco-House, Asset Enterprise Partnership is delighted to offer a social housing project in Brazil that aims to help render the severe national housing shortage by offering properties to thousands of low-paid Brazilians families, whose lack of income would otherwise prevent them from being able to buy. Backed by the Brazilian Government, low rate mortgages are now available for those earning above the minimum wage with repayments of similar value to what residents would have paid in rent. The project in the Bosque region has been brought to fruition by Eco-House, as both the developer and constructor of the sites, and funded by private investment from clients of agencies like Asset Enterprise Partnership. Starting from just £23,000 for a basic unit, a return of up to 17% is promised within the first year and repayment of the capital and payment of the interest is made 12 months from the date of the investment. Investors are reassured of the validity of the project as their money is protected in an escrow account, overseen by a UK based lawyer.
In addition, as an introducer for Olmsted (a Palmetto Company), Asset Enterprise Partnership is offering the opportunity to investors to earn an average of 12.25% return for a 100% secured property bond in a proven investment strategy. Investors have the option of a three or five year bond, secured on real assets based in the South-eastern United States. Olmsted purchases properties at below market values, renovates and refits with a variety of energy saving devices and equipment to provide affordable housing to single families. This rental strategy, from Palmetto, formed in 2009, currently manages more than US$100 million in real estate assets.
As Asset Enterprise Partnership aims to increase its property investment portfolio even further, the company is also looking to expand with the appointment of a number of 'partner agents'. Individuals with experience in wealth management or an IFA background who are proactive and highly motivated and are looking for a new challenge selling a variety of wealth generating asset based products should send their CV to the partners at Asset Enterprise Partnership. Further information is available at http://www.assetenterprise.org/wanted.
For more information call 0845 868 5920 or visit http://www.assetenterprise.org.