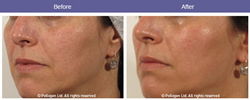 With the Imogen system, I can totally achieve the results my patients and I desire. The facial dermal volumizing and wrinkle reduction results are exceptional. Dr. Michael H. Gold, MD from Gold Skincare Center
(PRWEB) March 18, 2014
Pollogen Ltd., a global leader in the medical aesthetic market, will launch the Imogen system in the United States during the upcoming American Academy of Dermatology (AAD) meeting. The Imogen System is FDA cleared for dermatological procedures requiring ablation and resurfacing of the skin using the VoluDerm applicator. It is also intended for use in dermatologic and general surgical procedures for the non-invasive treatment of mild to moderate facial wrinkles and rhytides. The system sets a new standard for aesthetic treatments delivering unsurpassed immediate and long-term treatment results.
The newly approved VoluDerm technology targets the mid-dermis with micro-pins and radio frequency, increasing production of hyaluronic acid, collagen regeneration and elastin growth. As a result, VoluDerm technology achieves significant and long-lasting dermal volumizing, wrinkle reduction and skin resurfacing. TriPollar technology is a non-invasive solution that delivers immediate skin tightening and long-term skin rejuvenation results. The safety and efficacy of the technology have been validated in over a dozen peer review papers and extensive clinical experience. The Imogen treatment is effective on all skin types and colors and is carried out in a fast 'walk-in walk-out' procedure with minimal discomfort. There is no downtime and patients can resume their daily routine immediately after treatment.
Pollgoen will be showcasing the Imogen system at the upcoming American Academy of Dermatology meeting (AAD, booth #2908). The AAD is the world's largest dermatology meeting which attracts almost 20,000 attendees from 97 different countries. The upcoming 72 annual AAD meeting will be held in Denver, CO, from March 22-24, 2014.
Dr. Michael H. Gold, MD from Gold Skincare Center said: "With the Imogen system, I can finally achieve the results my patients and I desire. The facial dermal volumizing and wrinkle reduction results are exceptional. The skin becomes more supple and elastic and my patients look and feel years younger. Most importantly, the results are natural-looking which is what my patients want."
Mr. Amichai Bar-Nir, Pollogen's CEO commented: "The US market is the largest and most influential arena for aesthetic treatments. Pollogen is excited to launch the Imogen system in the US and is confident that American dermatologists will be impressed by its technology and performance and will provide their patients with unparalleled anti-aging results. "
Click here to see how VoluDerm technology works.
About Pollogen
We believe in constantly challenging ourselves to create the most advanced, effective medical aesthetic technologies and solutions. We believe in thinking differently.
In everything we do, we take a customer-centric approach by making our products user-friendly, safe and convenient. At Pollogen there is no such word as "done"; we continually perfect our solutions to provide treatments that are pleasant and effective. We believe in finding ways to develop technologies that work with the body's natural mechanisms so beautiful results are generated from within.
Pollogen is the developer and manufacturer of five revolutionary technologies under the industry premier brand names OxyGeneo™, Hybrid Energy™, VoluDerm, TriPollar®, TriLipo® and TriFractional™. We offer a full line of clinically-proven, safe and effective, non-invasive anti-aging facial and body contouring treatment platforms for a wide range of aesthetic applications. Pollogen provides solutions for professionals in over 60 countries, addressing the specific needs and dynamic changes unique to the ever-evolving aesthetic industry.