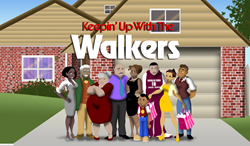 There's a new family in town.
Atlanta, GA (PRWEB) March 18, 2014
There's a new family in town – The Walkers. Fun and loving, this inter-generational African American family is coping with today's health and wellness challenges. Keeping Up With the Walkers ®(KUWW) is an engaging and entertaining animated series for the entire family. Excerpts of this new and compelling series are available online at http://journeytowellness.com/keeping-up-with-the-walkers/602-thewalkers.
Unlike traditional health information filled with technical terms and confusing statistics, Keeping Up With the Walkers® takes a different approach, mixing family drama, comedy, and valuable but relatable information about health disorders that disproportionately impact the African American community, such as obesity, diabetes, hypertension, breast cancer and glaucoma. The series is divided into 24 six-minute episodes.
"Our research indicates that African Americans really identify with the characters In Keeping Up With the Walkers®. As a result, people who see the series are not only entertained, but also change the way they think about their healthcare," says Dr. Mary S. Harris, creator of KUWW and publisher of journeytowellness.com.
JourneytoWellness.com is a subsidiary of BioTechnical Communications, Inc. (BTC), a communications company established in 1987, specializing in the production and dissemination of health care information targeted to ethnic minorities. BTC has translated its research into innovative, award-winning media products that engage minority consumers and influence health behaviors. JourneytoWellness.com allows listeners to access archived audio of the Journey to Wellness nationally syndicated radio programs, as well as read program related articles and link to credible related resources.
Funding for production and evaluation of this series was supported by the National Institute on Minority Health and Health Disparities under award number R44MD007594 and the National Center for Research Resources under award number R44MD028137. The content is solely the responsibility of Journey To Wellness and does not necessarily represent the official views of the National Institutes of Health.