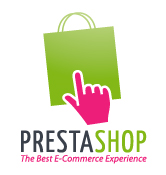 We are extremely proud of PrestaShop 1.6 and excited to introduce the world to a new generation of e-commerce that is both brilliant and beautiful.
Miami, FL (PRWEB) March 17, 2014
PrestaShop, the world's leading open source e-commerce platform powering more than 165,000 online stores worldwide, today announced the release of PrestaShop v1.6, the new version of its software that's bound to shake up the industry. With a variety of new features including real-time data, unique key performance indicators, the ability to edit live templates, and a completely redesigned user interface, PrestaShop v1.6 truly connects merchants to their online businesses and gives them everything they need to run the most successful online store for free.
PrestaShop v1.6 came out of an alliance with their 600,000-member community to create a solution that completely empowers online retailers to make smarter businesses decisions to help them take their business to the next level. With the addition of advanced insights such as a forecasting statistics panel, real-time net profit margin and valuable key performance indicator data points available throughout the Back-Office, merchants will be able to capitalize on unique business intelligence that cannot be found in any other e-commerce solution, at no cost.
"We are extremely proud of PrestaShop 1.6 and excited to introduce the world to a new generation of e-commerce that is both brilliant and beautiful," said Bruno Leveque, Co-Founder of PrestaShop. "This new version, completely free as always, sets the bar for what online merchants should expect from their e-commerce software. From an intuitive Back-Office with unmatched business intelligence to a conversion-oriented store front that looks sleek on any device, PrestaShop 1.6 enables merchant success through innovative technology."
The New Features of PrestaShop v1.6
● Redesigned fully responsive Back-Office simplifies management and allows online merchants to access their back-office dashboard 24/7 from any mobile device, tablet, or computer.
● Real-time net profit margin is a unique e-commerce feature – available only in PrestaShop v1.6 – that enables merchants to view their sales and profits instantly, any minute of the day.
● Intelligent merchant KPIs are located throughout the Back-Office and provide merchants with advanced insights such as percentage of abandoned carts, best-selling products of the month, percentage of male vs. female customers, and much more.
● Live template edits from Front-Office allow merchants to change the look of their online storefront instantly without any advanced technical knowledge.
● Revamped fully responsive Front-Office template is sleek with conversion-oriented enhancements designed to increase sales including advanced menu navigation, add-to cart confirmation with cross selling, a new quick product view feature and the same visual experience across all mobile and computer devices.
● New technologies including Bootstrap 3.0, SaaS Compass, FontAwesome and D3 Data Driven Documents enable greater site accessibility, performance and flexibility to facilitate merchant success. Combined, these technologies are what make PrestaShop v1.6 fully responsive and allow for live configurations to the online storefront templates.
Since its launch in 2007, PrestaShop, which just secured $9.3 million in a Series B round of funding, has helped merchants process more than $15 billion in sales with its powerful, user-friendly open source e-commerce software. PrestaShop's freemium business model allows merchants to build and manage an online store at no cost. Merchants can also fully customize their online store with 310+ built-in features and can choose from thousands of features, modules and templates available on PrestaShop's Official Marketplace for additional fees. PrestaShop's active community has a member base that includes developers contributing everything from code to templates, and from translation and localization in more than 60 languages.
To download PrestaShop v.1.6, please visit http://www.prestashop.com/en/download.
About PrestaShop
PrestaShop is a open source e-commerce software platform powering over 165,000 active online stores worldwide. Recognized as the world's most powerful, flexible and internationalized e-commerce solution, PrestaShop provides online merchants with hundreds of innovative tools to build and manage successful online stores at no cost. Used in over 160 countries and partnered with the most renowned names in the industry, PrestaShop continues to revolutionize online retail with technology that increases sales and maximizes visibility. Working hand in hand with its growing community of more than 600,000 dedicated members, PrestaShop's entrepreneurial team is made up of e-commerce enthusiasts that are committed to the success and profitability of their online merchants.
PrestaShop, which has offices in Miami and Paris, is the proud two-time winner of Packt Publishing's Best Open Source Business Application, winner of Europe's Bsoco Award in the 2013 CMS category and rated #1 Open Source Shopping Cart by EcommerceBytes Sellers Choice Awards 2013. For more about PrestaShop visit http://www.PrestaShop.com, follow @PrestaShop on Twitter and Like Facebook.com/PrestaShop.