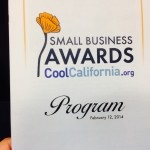 Napa, CA (PRWEB) March 17, 2014
The Inn on First is proud to announce that they recently received a Climate Leader Award from CoolCalifornia.org, an organization which is funded by the California Environmental Protection Agency. They were one of 13 businesses in the state of California to receive the award. This award recognizes small businesses in California that demonstrate exceptional climate change management practices and communication.
The Inn on First also received certificates of recognition from state Sen. Lois Wolk and state assembly member Mariko Yamada. The business owners spent a fun afternoon in Sacramento with the other award winners. They were able to see that small businesses throughout the state of California can and do take steps that have significant impact upon the environment. The businesses may be small, but they are mighty.
Not only is The Inn on First a premier destination for romantic getaways in Napa, but their commitment to promoting green living and reduced energy consumption helps set them apart from all other lodging inn locations throughout Napa and throughout California. The Inn on First is the first northern California bed and breakfast inn to be certified as "green" by the state of California, and the second overall in the whole state. They are also proud members of the California Green Lodging Association and the Bay Area Green Business Association.
To learn more about The Inn on First and their green efforts, visit their website. To make a reservation, call 707-253-1331.
About the company:
The Inn on First provides romantic getaways in the Napa Valley that will surpass all expectations. They can offer landscapes of rolling hills and beautiful vineyards of the entire Napa Valley. With a location that is one of the most sought after destinations in the country, the Inn and rooms are the perfect complement to a Napa Valley experience and make for a romantic atmosphere for loved ones. The Inn on First is always committed to providing their guests with an experience unlike any other, providing them with the utmost care and service. For more information, please visit their website at http://theinnonfirst.com/.