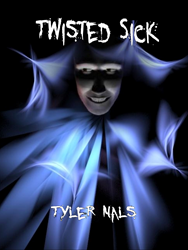 (PRWEB) March 18, 2014
King is a master of his craft. His storytelling is in-depth with attention paid to every detail. With Twisted Sick, Nals' aims for speed, writing for the person on the go who desires a quick yet deep shock, laugh, or cry in a matter of minutes opposed to a matter of days. That's what makes well-written short stories so appealing.
Nals gives on-the-go readers an opportunity to finish a complete story while riding the train, relaxing at the coffee shop, or waiting at the doctor's office. Nals also writes for those who are pressed for time in general.
Twisted Sick is a short-story compilation with 41 stories total. Popular tales include The Hooded Man, The Watcher, Creature, Needs, The Elevator Guy, Four Liars, The Lie Detector, The Thin Man, Granny Dancer, and The Good Line.
In Twisted Sick, readers will find everything from horror to humor, with some of the most bizarre characters in-between.
When reading Nals' short stories, most people find themselves stumped at the end of each tale, the combination of words on the page sending their minds into an unpredictable yet enjoyable tailspin.
Nals has been writing his entire life, but despite college classes and writing courses, he didn't see his writing improve until joining FanStory.com. After three years on the site, his writing flourished, and he began to win many writing contests. Soon after that, he found a writing job with a popular online media company. Less than a year later, he landed a job with a larger online media company.
Nals has won the Legend Press Eight Hours competition (more than 1,000 entries) and FanStory's Short Works Writer of the Year. His articles are featured on the Yahoo! home page several times per week (under a different name.)
Twisted Sick is now available at Amazon.
You can follow Tyler Nals on Twitter @TylerNals, or you can find him under the name 'drivenbackward' on FanStory.com.