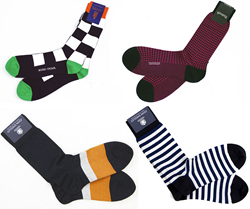 With events at various fashion weeks putting more emphasis on socks as an accessory, we feel the time is right to stock up on socks!
Scarborough, UK (PRWEB UK) 20 March 2014
Socks are a must-have accessory for spring, predicts online retailer, Atom Retro. With hints of the trend for wearing fashion socks peering through at a host of top fashion shows including New York, Paris and London, Atom Retro have increased their socks range for spring 2014.
Atom Retro experienced unprecedented demand for socks in the run up to Christmas. Alister Poulton, buyer at Atom Retro says, "We tripled our business on socks over the Christmas period, and the demand for socks has held up well into the new year. Feedback from our customers told us that they liked the quality, colours and choices of the socks on offer, but also hinted that a larger selection would be welcome. With events at various fashion weeks putting more emphasis on socks as an accessory, we feel the time is right to stock up on socks!"
At London Fashion Week in February this year the emphasis was on girls with ankle socks in both muted and striking colours, pulled up high and often paired with vintage style outfits. "This fits in perfectly with what we're all about," Alister says. "Power socks worn with flats and brogue shoes is a look we're pitching as a winner, with plain ribbed and pattern socks creating a different look. Last season we did exceptionally well on women's knee high socks with Pantherella's paisley designs going down a storm. We can see the already this season, a large amount of our customers that are purchasing are also checking out with a pair of socks as an add on."
Atom Retro stocks premium quality men's socks from heritage British brands, John Smedley, Pantherella, Scott-Nichol, Richard James and a limited edition range from Baracuta in collaboration with Smart Turn out. Women's socks are also available from John Smedley and Pantherella.
"They are a relatively low budget purchase and can add the finishing touch to an outfit. If you're wearing an expensive, sharp suit, the last thing you want is to be let down by poorly chosen socks," Alister says. "Pantherella in particular cater for a tailored and smart look, but often with a quirk or point of difference to appeal to the modern customer."
'Quirky' socks also seem to be on trend this season, breaking away from traditional plain, striped or argyle socks. Scott-Nichol, who specialise in a heritage and country 'English' range of socks, also make 'Odd Socks' - a range with deliberately mis-matched socks where for example one sock features thick stripes and the other sock will be thin stripes - a style that brings to mind a famous Andy Warhol quote: "No matter how carefully I sort my socks, whenever I do my laundry there are always some missing. It seems to be a law of physics".
The most popular styles depend on the look the customer is seeking as Alister explains, "For men, we are seeing a look that pairs dark denim with turn ups and casual loafers complimented by both brightly coloured and striped socks, which is a very preppy mod and fifties Ivy League style. John Smedley's bold stripes and Scott-Nichol's sporty heritage ranges have gone down well with customers after this retro infused summer image."
In tailoring, the importance of the right socks is long established. "When people are wearing a conservative looking suit, socks can offer a lift and a chance to express your individuality, with a stylish pop of colour," Alister says. "We've noticed plain brights, bold block colours or perhaps a simple patterned sock have tended to go well with our more tailored outfits as people look to add a hint of colour into more formal wear. Richard James Polkadot socks and Pantherella socks have been real winners in this respect."
About Atom Retro:
Atom Retro (http://www.atomretro.com) is a UK leading clothing retailer, boasting the largest range of authentic, high quality retro and mod clothing for men and women online. The Atom Retro range is inspired by the Carnaby Street boutiques of the sixties and includes an ever growing list of iconic brands and original, independent designers. Browse Atom Retro's extensive range of retro and mod clothing on the Atom Retro website.