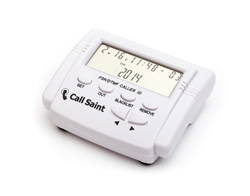 The Call Saint Nuisance Call Blocker is unique as it offers the cheapest, simplest way to reduce nuisance calls. Its wide range of features put consumers firmly in control of who they speak to.
(PRWEB UK) 20 March 2014
The Problem
Nuisance calls are a growing concern, as more businesses resort to 'cold calling' consumers at home to convince them to part with their cash. UK consumers receive an average of 104 unwanted calls each year, with a quarter (26%) receiving in excess of 130 nuisance calls per year, according to a recent Ofcom study. Nuisance calls can include: pushy salespeople (including PPI and accident/injury claims); silent/abandoned calls; and recorded messages. Telephone scams are also on the rise, with fraudsters trying to trick people out of money or access their personal details.
Nuisance calls can be frustrating and inconvenient. But for some people, who may be more vulnerable due to age or illness, unwanted calls can be extremely upsetting. Vulnerable consumers could also be more at risk from becoming victims of scams.
The Call Saint Solution
Call Saint offers a low-cost, reliable and effective solution to people who are fed up with nuisance calls. It puts power back into the hands of landline customers, allowing them to choose which calls to block and which people they want to speak to. Call Saint gives peace of mind, allowing people to relax in their homes without unwanted invasions of privacy.
The Telephone Preference Service (TPS) has limited powers. It can't stop all types of nuisance calls, or unscrupulous companies and fraudsters who put making money before the law. A 2013 Which? report showed that 57% of people registered with TPS were dissatisfied. Many were receiving twice as many calls as those not registered with the TPS.
Earlier this month consumer champion Which? recommended using a physical call blocker – such as Call Saint - to "keep nuisance phone calls to a minimum". Which? advises: "If you're already registered with the TPS and are still disturbed by nuisance calls, rather than paying £40 a year to join another register, we'd recommend spending the money on a physical call blocker......we believe this type of device can be far more effective at stopping nuisance calls."
At only £24.95 Call Saint is the cheapest call blocking device on the market, offering a reliable, effective way for consumers to take control of their calls. Call Saint offers:

Ease of use – simple for people of all ages to set up and use. Call Saint plugs into your home phone and phone socket. Powered by your phone line, there's no need for plugs or batteries. Call Saint works on any home phone line (you need to subscribe to a Caller Display service from your provider).
One-touch call blocking for up to 1200 numbers – if you recognise the number of an incoming call simply press the 'Blacklist' button to block the call without even answering the phone. If you answer an unwanted call, press the 'Blacklist' button to automatically end the conversation and add the number to the blocked caller list.
Block 'types' of numbers – Call Saint can block 'withheld' numbers and up to 10 area codes from calling you. For example, block all numbers starting with 08.
Easy unblocking - if you change your mind, or block a number by mistake, you can easily unblock any number.
Parental control for outgoing calls - Call Saint's 'Parental Control' allows you to block up to 100 outgoing calls, for example to mobile or premium rate numbers, to avoid unexpected bills.
Security - Call Saint can be PIN protected, so that only you can change the settings.
Call review – the Call Saint box lets you view the last 100 incoming calls and the last 50 outgoing calls. You can block any of these numbers by pressing the Blacklist button.
Mrs H was receiving an excessive amount of nuisance calls - sometimes as many as three within a 30 minute period. She purchased a Call Saint Nuisance Call Blocker and was impressed with the results: "I am over 60 years old and found Call Saint very easy to set up within minutes. Talk about 'Silence is Golden' - I noticed the benefits of having this blocker within the first 24 hours and up to now it has worked a treat. This item is worth its weight in gold and well worth the price."
Call Saint Managing Director, Raj Sukkersudha, says "the Call Saint Nuisance Call Blocker is unique as it offers the cheapest, simplest way to reduce nuisance calls. Its wide range of features put consumers firmly in control of who they speak to. Call Saint reduces stress, saves time and could help to protect vulnerable consumers from becoming victims of scams."
Notes to editors:
Call Saint is owned by R5 Internet Ltd and was launched in March 2014
The Call Saint Nuisance Call Blocker costs £24.95 and can be purchased from http://www.callsaint.co.uk or http://www.amazon.co.uk
To use Call Saint you must be signed up to a Caller Display Service from your home phone provider. Most providers offer Caller Display free of charge, but charges may apply.
1. Ofcom 'Landline Nuisance Calls Panel' May 2013
2. Which? 'Who can stem the flow of nuisance calls?' July 2013
3. Which? 'Hang up on nuisance call charges' March 2014