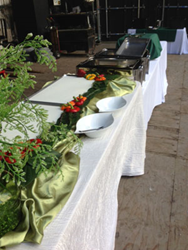 Impeccable Taste Catering was amazing. From setting up, serving our guests, and through to clean-up...
Toronto Ontario (PRWEB) March 18, 2014
Whether it's a corporate brunch at the office or hosting a party in the backyard, having a drop-off catered meal will take the edge off, ultimately saving time and energy. After decades in the business of entertaining, Rodney Kaufman, CEO and Executive Chef of Toronto's Impeccable Taste Catering, knows that the best events are the ones where the host actually plays the host role. "Engaging a drop-off catering service allows the person running the event to spend time with their co-workers, friends and family," says Kaufman. "That's when the deals are made."
A corporate brunch is the perfect time to take advantage of Impeccable Taste's drop-off service. With a variety of in-season foods dropped off and ready to go, such as mouth-watering pastries, scrumptious muffins and a colourful fruit tray, guests are treated to the perfect start to the day. A drop-off catered meal also offers the flexibility to serve hot or chilled entrées like salmon or chicken, tasty side salads and yummy desserts.
Having deliciously gourmet dishes specifically catered to any event holds many positive benefits. With the Impeccable Taste drop-off catering service, event hosts will:
Save Time - Don't stress about having to run to the grocery store, prepare a variety of dishes to suit a number of tastes and serving them on a beautifully displayed platter. Simply place your order and Impeccable Taste will do the rest.
Be a Guest - Even though the event is taking place in a home or office, hosts can relax knowing that all of the details are already taken care of by the talented Impeccable Taste team.
Serve variety - From light breakfast choices to hearty dishes, hosts will be well prepared to appease all of the guests. Host may have a flavourful vision which can be brought to life, or they can choose from pre-designed menus.
Special Diet? No Problem. Are gluten-free, dairy-free or nut-free options required? Impeccable Taste can ensure that guests will have a delectable menu item that fits their lifestyle. Say no to the ordinary.
Impeccable Taste Catering consistently delivers quality food that looks as good as it tastes. Impeccable Taste Catering works with private individuals, companies and corporations in Toronto and the wider Greater Toronto Area markets. Services include expert event planning and catering for casual lunches, seminars, conferences, product launches, release parties, corporate affairs and weddings, among other social events. Visit http://www.itcatering.ca for more details.