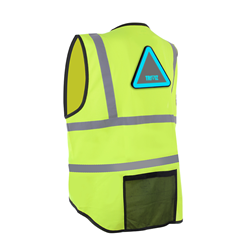 There is a huge potential to use our technology in the workforce market across a range of Industries.
Trinity, Jersey (PRWEB UK) 18 March 2014
Proviz Workforce has launched to provide the best quality 'Hi Viz' workwear to ensure maximum safety for workforces by incorporating electroluminescent lighting technology.
The Triviz Electroluminescent light pack is designed to specifically enhance users visibility when working at night or limited light. The eye-catching electric-blue light emitted by the Triviz is the most effective colour to attract the human eye's attention during hours of darkness, resulting in a workers position being more easily identified by other road-users. The USB rechargeable Triviz light pack is designed as a visibility booster rather than relying on light to see reflective panels, so workers become a light source. Proviz tests show that you can be seen quarter of a mile away when wearing the Triviz light pack at night.
The Triviz is exclusively compatible with the Proviz Workforce Hi Viz Vest and is attachable/detachable in seconds via super strength velcro. The Triviz has won the Internationally recognised Red Dot Design Award, rewarding excellence and innovation in the Safety category.
All Proviz Workforce products reach the very highest safety standards and there are many benefits to organisations and brands as Managing Director Anthony Langly-Smith comments:
"Proviz can custom design the Triviz for an organization or companies brand logo which will illuminate. This is a fantastic marketing channel for getting a brand to be seen and also acknowledged as one that is going above and beyond health and safety standards. Proviz technology helps workforces to be as safe as possible when they are working at night. We have already been contacted by a large European car manufacturer as it is a legal obligation for drivers in Europe to have an item of 'Hi Viz' in their car and they wanted 'best in class' products and also a large supermarket delivery company, so there is a huge potential in the workforce market across a range of industries."
Please visit http://www.provizworkforce.com and learn more about their unique products.
About Proviz Workforce
Proviz was started in 2008 by two brothers, they saw a gap in the market when commuting by bike to work in London to provide light emitting cycling products. Proviz is now globally renowned as the best-selling 'Hi Viz' Sports brand, distributed in over 40 countries. Proviz Workforce has just launched and is located at Rock Vale Rue de la Burgerie Trinity Jersey JE3 5AP.