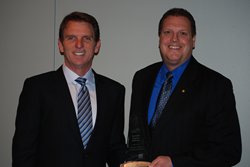 Satellite Beach, FL (PRWEB) March 17, 2014
Via Satellite provides in-depth coverage of the global satellite industry through its print and on line publications. Its 2013 Excellence Awards salute the innovative companies, technologies, campaigns and people who have helped shape the success of the global satellite industry.
Satcom Direct received the Vertical Impact for Military Excellence Award. In addition to the company's overall excellent performance in the military arena during 2013, its success in the market was highlighted by winning a Department of Defense contract to provide Inmarsat service and support to aeronautical customers for the next five years. The contract is worth approximately $220 million.
"We are honored to be doing this work and honored to receive this award," said David Greenhill, president, Satcom Direct. "As the contract enters its first option year, we look forward to continuing to bring our frontline troops the best service from the industry's foremost satcom support team to ensure mission success."
Satcom Direct Communications, Inc., won the DOD contract by demonstrating to the government that it had been the critical delivery agent behind the scenes as a subcontractor for the previous 11-year period.
Via Satellite also noted that Satcom Direct is looking forward to working with Inmarsat on their new I-5 Global Xpress and with Iridium's NEXT constellation. "Our close partnerships allow us to deliver an entirely unique capability. Over the next two years, we will take this capability to the next level by providing satellite operators and network providers with a new and improved set of mission-focused tools and applications," said Greenhill.
Satcom Direct: Satcom Direct is the leading provider of satellite voice and broadband data solutions for flight deck and cabin communications serving business, military, government, and heads of state aircraft. The company is a premier Inmarsat Distribution Partner, Iridium Service Partner, and ViaSat Yonder's preferred reseller, supporting more than ninety percent of all corporate flight departments worldwide. Satcom Direct continues to advance its services through mobile applications and value adds – from flight deck datalink to cabin communications – making Satcom Direct the leader in aeronautical satcom service. For more information regarding Satcom Direct, visit http://www.satcomdirect.com, e‐mail sales(at)satcomdirect(dot)com, or call +1.321.777.3000. To view Satcom Direct's portable satellite communication equipment and services, including satellite phones and BGAN units, visit http://www.satcomstore.com, e‐mail mobileops(at)satcomdirect(dot)com, or call +1.321.777.0771.
Satcom Direct Contact: Catherine Rost at crost(at)satcomdirect(dot)com or 321.525.4634