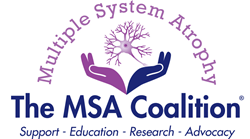 Delivery of brain targeted neurosin into the CNS might represent a potential therapeutic option for neurodegenerative disorders including Multiple System Atrophy.
San Diego, CA (PRWEB) March 18, 2014
The Multiple System Atrophy Coalition has awarded a $50,000 grant to Dr. Eliezer Masliah of the University of California San Diego. His research project, entitled "Peripheral delivery of brain-targeted neurosin as a novel treatment for MSA", will seek to determine whether this new method of introducing neurosin into the central nervous system of mouse models of MSA might translate to a potential therapeutic option in humans.
"To date, there are no effective treatments for MSA and there is an urgent need for therapeutic alternatives that prevent or reverse pathological symptoms," stated Dr. Masliah. "Recent studies suggest that abnormal accumulation of the protein alpha-synuclein in brain cells leads to cellular dysfunctional and neurodegeneration in Multiple System Atrophy and it is increasingly evident that the toxicity of extracellular alpha-synuclein might be related to its ability to be taken up by neighboring cells and act in a prion-like manner. This behavior could be a key event in the origin and progression of the disease."
"Compounds that reduce intracellular alpha-synuclein aggregation have received significant attention in recent years but the possibility of reducing the spread of alpha-synuclein from cell to cell by degrading extracellular alpha-synuclein has not been explored in such depth," he continues. "The innovation of this project is that we will increase the brain levels of an extracellular alpha-synuclein degrading enzyme by means of peripheral gene therapy and targeted delivery to the central nervous system (CNS). Delivery of brain targeted neurosin into the CNS might represent a potential therapeutic option for neurodegenerative disorders including Multiple System Atrophy."
Multiple system atrophy is a rare and fatal neurodegenerative disorder affecting approximately 50,000 Americans. At present there are no known disease modifying treatments or cures available.
"As a rare disease, MSA gets very little funding or attention from government or biopharmaceuticals," stated Carol Langer, a Board member for The MSA Coalition. "Being able to provide this crucial funding to Dr. Masliah who has innovative ideas about how to arrest one potential underlying cause of neurodegeneration can make a big impact, not only to Multiple System Atrophy, but to other neurodegenerative diseases. We hope this research helps answer many key questions and leads to future treatments."
About The MSA Coalition® Research Grant Program
The Multiple System Atrophy Coalition established a dedicated MSA research fund in 2011. Then, the organization established an MSA Research Grant Program along with a scientific advisory board (SAB) in 2013. The goal of the MSA Research Grant Program is to identify and fund MSA research projects that have the potential to discover a cause, disease modifying treatments, and hopefully a cure. The world-class SAB ensures that The MSA Coalition is funding the most promising research. At present, 75% of each donation received by The MSA Coalition goes directly into the research fund. The other 25% used to fund advocacy, awareness, educational initiatives and minimal operating expenses.
For more information or to donate to The Multiple System Atrophy Coalition, please visit: http://www.Multiple-System-Atrophy.org.
About Multiple System Atrophy
Multiple system atrophy (previously known as Shy-Drager Syndrome) is a rare and fatal disorder with less than 15,000 Americans diagnosed and 35,000 undiagnosed at any given time. According to the National Institutes of Health, "Multiple system atrophy is a progressive neurodegenerative disorder characterized by symptoms of autonomic nervous system failure such as fainting spells and bladder control problems (neurogenic orthostatic hypotension), combined with motor control symptoms such as tremor, rigidity, and loss of muscle coordination. MSA affects both men and women primarily in their 50s. MSA tends to advance rapidly over the course of nine to 10 years, with progressive loss of motor skills, eventual confinement to bed, and death. There is no remission from the disease. Currently no cure is available."