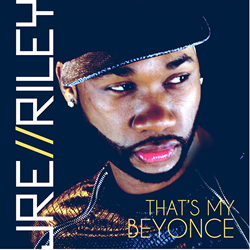 "Meant to change the game and reestablish the essence of well-written music."
Milwaukee, WI (PRWEB) March 19, 2014
The waiting is over! The future of R&B begins now, and the entertainer that is ready to lead the way is gifted singer-songwriter JRE Riley. He is uniquely identified as "Dre with a J". A quintessential voice for the times, he's filling the void left open by predecessors. He's undoubtedly emerging as the next brightest star in the entertainment arena!
PRU Records announces the debut release of Jre Riley, "That's My Beyoncé". It's a song that gives homage to the essence of women with the attributes of superstar entertainer, Beyoncé. Jre's smooth melodic vocals rides the upbeat rhythms of rising hip-hop music producer, Cash Clay, and the complementary combination results in a winning formula for the sure-fire hit song. Powerfully expressed, the catchy and genuine "That's My Beyoncé" will resonate with listeners all over. A widespread marketing campaign is being instituted to begin here in the U.S and to later extend worldwide.
Shawn Turner, CEO of PRU Records is leading off their 2014 release schedule with the confidence that this is just the start of big things to come. He is on the verge and has a solid team in place to make it happen.
Ray Berry, of KaBryel Management, will use savvy business acumen to develop and build Jre's brand, leading and guiding the various facets of his career to ensure long-term success on many fronts.
Industry veteran Zaki Abdul of Street Ready Entertainment, spearheads the Radio Promotion/Marketing aspects of the project for PRU Records, and is already receiving positive radio feedback.
Milwaukee native Jre Riley's musical inclinations began in his formative years growing up in a musical family, emulating the greats whose music was a constant soundtrack in his home. With music an integral part of his life, over the years he perfected his craft, developing his artistry. Intent on capitalizing on his appreciable abilities, the virtuoso showcases his brilliance and steps to center stage. The intense and enduring dedication to music resulted in the now evident incomparable vocal talent. Coupled with extraordinary songwriting skills, Jre is ready to bring his brand of passion to the world, ready to enter and establish his place in the pantheon of the elite entertainers.
Among the major entertainers that influenced the refining of his artistry are: James Brown, Michael Jackson, R. Kelly, Usher and other greats contributing to his evolving R&B mastery that is destined to give him crossover acclaim as he distinguishes himself.
In pursuit of his life-long dream, Jre is passionate about the words he puts to his songs. With pronounced sensitivity, powerful, rich vocal stylings are deftly united with complementary music that will satisfy the appetite of craving audiences.
Jre's absorption of old school music mixed with his contemporary sensibility fuels his impulse toward mass appeal. He is ready to unleash, with a focused goal of delivering songs that reaches and touches tens of millions of people.
Production of the debut album is almost complete, with work being done by aural architects that include producers Eric Cire, Cash Clay, Kyle Russell, Yung Dev, and 2 Aries. Producers' credits range from Mariah Carey, R. Kelly, Marques Houston, K. Michelle, T-Pain, Waka Flocka Flame, and Yung Joc.
Their mission is to create a collection of songs that explores various facets of life experiences, ranging from the seductive for the tender moments, to the bangers fused with street ready beats. The plethora of songs will appeal to a wide demographic, showcasing his deep love for music, which encompasses soulful R&B, Hip-Hop, and Pop. The album is preceded by its first song release "That's My Beyoncé", set to introduce Jre to audiences and consumers globally.
He is self-assured and intent on building a discography of songs that will stand the test of time. The timing is right for him to emerge from the shadows and step into the spotlight.
Website: http://www.kabryelmanagement.com/
Facebook: http://www.facebook.com/jreriley
Twitter: http://www.twitter.com/jreriley
# # #
About PRU Records
Based in Milwaukee, WI, the company is an upstart independent music entity that produces, promotes, markets and controls the copyrights on music, video and related multimedia projects. In creating a solid foundation for its artists to grow in a focused long-term environment, it has a diverse roster of Hip-Hop, Rap, and R&B artists gearing up for upcoming releases.
The company's name, P.R.U is the acronym for Progress, Respect, Union.
Email: prurecords(at)gmail(dot)com