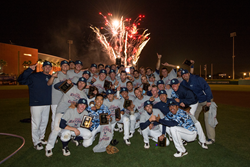 "These national level sporting events have a large economic impact in our city, filling hotels and restaurants, and adding to the quality of life for our residents," noted Wes Rhea, CEO of Visit Stockton.
Stockton, CA (PRWEB) March 17, 2014
2014 is going to be a busy year that will continue to solidify Stockton's position on the map as a top-notch host to large scale sporting events. This is Stockton's time to shine as a sports-friendly city that hosts prestigious events that attracts visitors from all over the state, country, and world.
In May, the West Coast Conference Baseball Championships return to Banner Island Ballpark. The top four teams from the conference will compete over three days for their chance to move on to the NCAA Baseball World Series in Omaha, Nebraska. In 2013, teams from Washington, Utah, and Southern California converged on Stockton. The event this year will be Thursday, May 22nd through Saturday, May 24th and the Championship game on Saturday will be broadcast nationwide.
For more information on this event, visit http://www.stocktonports.com.
July brings us the longest event of the year, the United States Twirling Association (USTA) 2014 National Baton Twirling Championships. For six days, competitors and their families will be in town to enjoy our city and all it has to offer. The event will be at the Stockton Arena, but everyone in town will feel the impact. Teams from New York, Florida, and all parts in between will be in Stockton competing for the coveted national title. USTA will be Monday, July 7th through Saturday, July 12th.
For more information on this event, visit http://www.ustwirling.com/content/National-Event.aspx.
National competition will return to the Stockton Arena from Friday, September 26th through Sunday, September 28th for the USA Roller Sports 2014 Roller Derby National Championships. Visit Stockton will serve as co-host of this event along with Stockton's Port City Roller Girls team. Twenty-one teams from across the country will converge on Stockton for this event and will compete for the USARS Seltzer Cup National Championship Trophy.
For more information on this event, visit http://www.teamusa.org/USA-Roller-Sports/Roller-Derby.aspx.
At the same time as the Roller Derby Championships, the world will be looking at the University of the Pacific's brand new Sand Volleyball Courts for the World Finals of Beach Volleyball. This event, part of the EVP National Tour, will bring sand volleyball competitors from across the nation and world to compete. The event, scheduled for Friday, September 26th through Sunday, September 28th, will feature men's and women's competitions as well as a lively competition on Friday evening with teams from the university's fraternities and sororities taking on some of the pros.
For more information on this event, visit http://www.evptour.com.
Many of these events will require volunteers to welcome the competitors and their families to Stockton. If you can volunteer your time, please contact the Visit Stockton offices at (209) 938-1555 to find out more information.
Visit Stockton is always searching for additional events to bring to Stockton. If you have ideas on sporting events that Stockton may host, please do not hesitate to contact us.